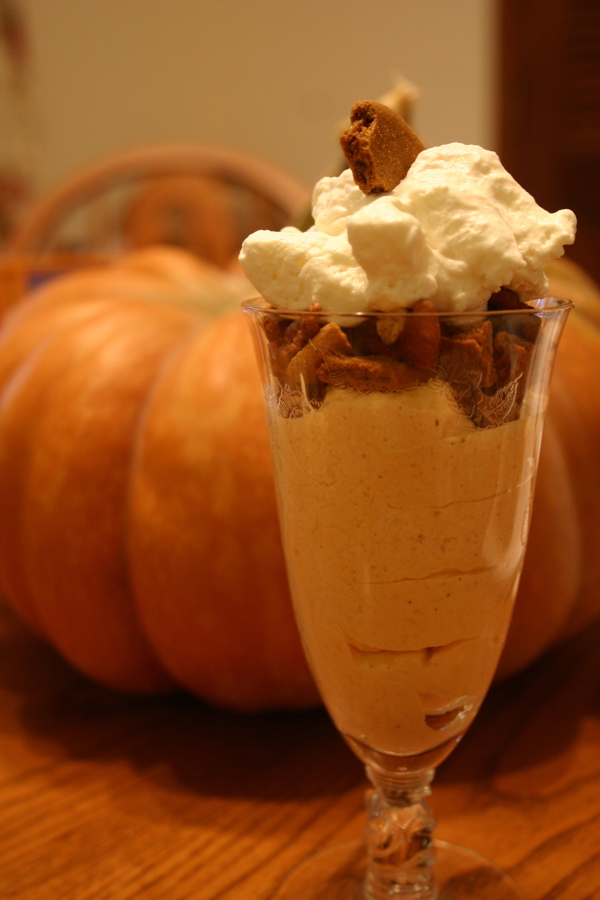 I know that I have mentioned before how much I love pumpkin. This past weekend we loaded up the minivan and went to Powell Pumpkin Patch, which is south of Kansas City. We had a great time enjoying the beautiful weather, riding the hay ride and hunting for the perfect pumpkin. Each family member was successful in finding a pumpkin they liked.  We even found a cute pumpkin to sit as the center piece on our table.
Our weekend pumpkin adventures inspired a new dessert at our house. Pumpkin Mousse. The creative juices finally started flowing as I had been struggling for days on what to serve for a dinner I was catering Monday evening. (I needed something I could adapt into a sugar-free or low sugar version, and sugar-free is hardly in my vocabulary much less my diet.) I started playing around with some pudding mixes (not knowing where I was going with the final product). When I added the pumpkin to the mixture, I knew it would be a keeper. I kept tweaking it a little bit but finally came up with something I was happy to serve.
This recipe is very simple to make and is delicious. William, who takes after my dad with his love of all spice type desserts, was in heaven as he got to lick the spoon and the bowl. This recipe is a great alternative to pumpkin pie but honestly we would probably just serve both at our house because I love pumpkin that much.
Pumpkin Mousse
Ingredients:
1 (4-serving) cheesecake instant pudding
1 1/2 cups milk
1 cup pumpkin puree
1/2 teaspoon cinnamon
1/4 teaspoon ginger
1 (8 oz) package Cool Whip (you can substitute fresh whipped cream instead)
ginger snap cookies (crushed)
pecans (toasted and chopped)
whipped cream
Directions:
Combine pudding mix and milk and whisk together for 1-2 minutes. Add pumpkin puree, cinnamon, and ginger and whisk together until it is well combined. Fold in Cool Whip. Chill in refrigerator for several hours. To serve top with crushed ginger snaps, pecans and a dollop of whipped cream.
To make this recipe with low sugar, substitute sugar free instant pudding and sugar free Cool Whip.