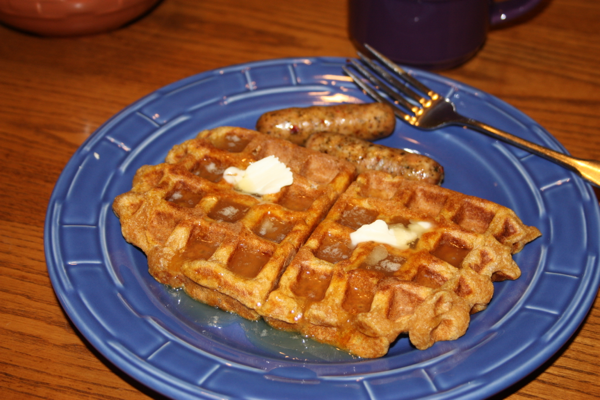 The last several weeks have been quite busy so when this past Saturday gave us a leisurely morning, I took advantage of it. Saturday mornings without soccer or other obligations mean we bypass the cereal and go for a proper breakfast.  With the cooler weather settling in, it seemed right to make breakfast with fall flavors and for me that means one thing: pumpkin.
I also thought it would be fun to make my own syrup. I am a lover of maple syrup, but my mom always liked to make syrup so I thought it would be fun. WOW!  I am so I glad I did. This syrup was phenomenal! While this syrup won't replace the maple syrup I keep on hand, trust me and make the syrup.  The flavors are complex and rich and this syrup does take your waffles up a notch. (I am sure it would even make the frozen variety of waffles seem special and I think that is saying something.)
Overall, our breakfast was fantastic. We enjoyed the nice leisurely family time and got to take a few moments together without worrying about what was next on our to-do list. The waffles were so filling and delicious we couldn't ask for anything more and the boys pushed back from the table satisfied which makes me happy.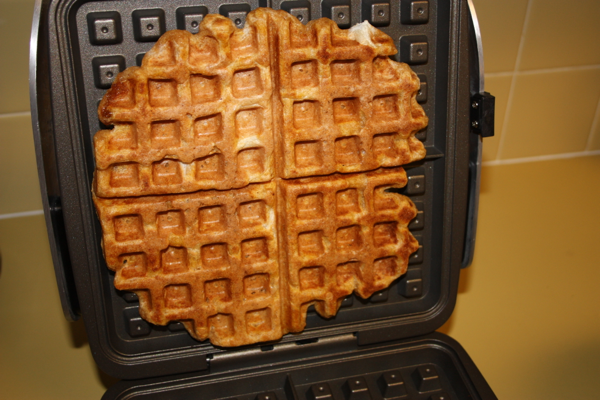 GF Pumpkin Waffles
ingredients:
2 cups gluten free flour (feel free to substitute regular flour if not GF)
3 tablespoons firmly packed brown sugar
2 teaspoons baking powder
1 teaspoon baking soda
1 teaspoon pumpkin pie spice
1/2 teaspoon salt
1 1/2 cups milk
1 cup pumpkin puree
1 egg yolk plus 3 egg whites
4 tablespoons melted butter, cooled
2 tablespoons apple cider vinegar
directions:
Preheat waffle iron according to manufacturer's directions.
In a large bowl, whip the egg whites until stiff peaks form. Set aside. Combine the dry ingredients in a large mixing bowl, whisking to combine. In a small bowl, combine milk, pumpkin, melted butter, egg yolk and vinegar. Add the liquid ingredients to the dry ingredients and stir/whisk to combine. Once the mixture is well combined, fold in the egg whites.
Cook in preheated waffle iron according to manufacturer's directions. While you are cooking the waffles you can place the cooked waffles on a large sheet pan in a 200 degree oven to keep them warm until all the waffles have been cooked.
Adapted from No. 2 Pencil
*We doubled this recipe and reheated waffles in the toaster later in the week.
Brown Butter Buttermilk Syrup
ingredients:
1/2 cup butter
3/4 cup granulated sugar
1/2 cup buttermilk
1 teaspoon baking soda
1 teaspoon vanilla extract
directions:
In a small saucepan, melt the butter over medium-low heat and continue to cook, swirling occasionally, until the butter turns golden brown. Skim off the foam from the top and remove butter from heat.
Pour the butter into a large saucepan, leaving behind any burned sediment from the bottom of the pan. Add the sugar and buttermilk to the butter, heat the saucepan over medium heat and whisk together until the sugar dissolves. When the butter mixture starts to boil, carefully whisk in the baking soda and vanilla. The mixture will bubble up so make sure you are using a large saucepan. Keep syrup in refrigerator for up to 2 weeks. Reheating before serving.
Adapted from Two Peas and Their Pod