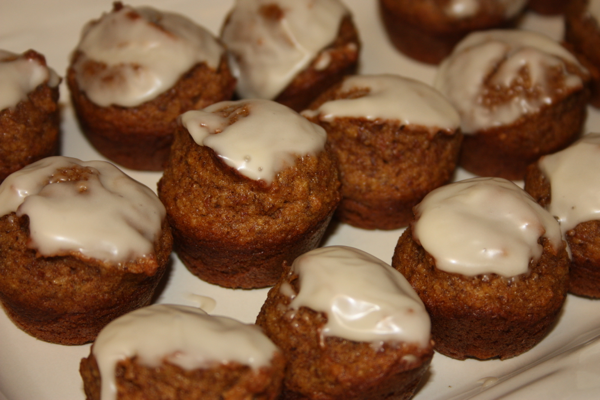 I have been pouring over recipes looking at ways to continue our gluten free diet for Tyler. Sometimes recipes turn me off due to the list of ingredients. I don't want to have to go buy a bazillion different flours and additives just to make the recipe when I have no idea if I will like the outcome or not. (I am a lot more adventurous when I don't have to spend a ton of money just in case the recipe doesn't turn out how I had hoped.)
I was happy to find this recipe on Trader Joe's website. It does call for almond meal, but I had bought that at a previous TJ's visit before we went gluten free just to incorporate into regular flour to give cookies and muffins a nutty texture.
My crazy schedule has started to calm down and I am no longer chauffeuring Jeffrey around so I have more time to spend in the kitchen. I have a list of recipes I have been wanting to try so I finally starting attacking my list. I made these earlier in the day, but thought they would be a nice treat for the boys once they got home from school. It didn't take long for them to ask what the pumpkin smell was and to quickly pop a couple in their mouths.
Overall, I think they are quite delicious. I don't think they are as sweet as some donuts or muffins, but a nice treat even still. Jeffrey thought a little more icing wouldn't be bad, but liked them as is as well. If you want a similar treat that is sweeter, I would try the pumpkin poppers.
Pumpkin Donut Muffins with Maple Glaze
Ingredients:
1 1/4 cups Almond Meal
2 teaspoons Pumpkin Pie Spice
1/4 teaspoon Baking Soda
2 Eggs
3 tablespoons canned Pumpkin
2 tablespoons Maple Syrup
1/4 cup Butter, melted
1/2 teaspoon Vanilla
Cooking Spray
MAPLE GLAZE:
3 tablespoons Powdered Sugar
1 tablespoon Maple Syrup
1/4 teaspoon Vanilla
Preheat oven to 350 degrees. Spray a donut pan or mini muffin pan with cooking spray. Combine almond meal, spice and baking soda. In a separate bowl, thoroughly mix eggs, pumpkin, maple syrup, melted butter and vanilla. Add pumpkin mixture to almond meal to create batter. Evenly distribute batter in pan. Bake for 10-11 minutes or until cooked through. Let cool. Combine powdered sugar, maple syrup and vanilla to create maple glaze. Drizzle on cooled donuts and serve. (I made 18 mini muffins with my batter.)