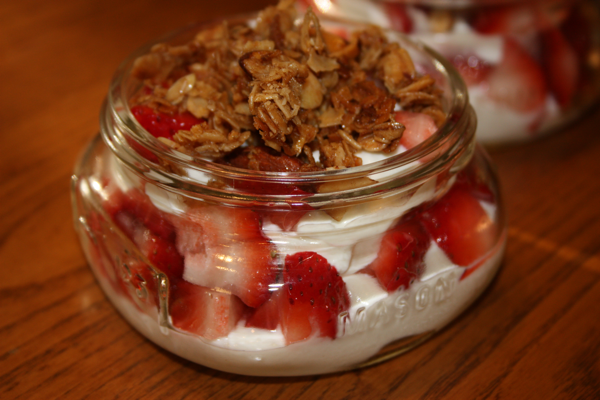 I have mentioned on my blog numerous times how much I adore granola. More times than not when I am grabbing breakfast, I will choose homemade granola and Greek yogurt. It fills the need for food, I don't feel guilty about eating it, and is quite satisfying. Did I mention that it is super quick to throw together? Honestly, that is probably my favorite part.
This past Saturday, we were headed to an early soccer game for William. After making sure the boys had something to eat, making coffee and getting a shower, I didn't have time to sit down for a bowl of cereal. I had to think…go without breakfast or grab something to go? Fortunately, I had a jar of homemade granola on hand and fresh strawberries (that tasted amazing). I always have a tub of plain greek yogurt so I was good to go for one of my favorites…fruit and yogurt parfaits. It was just what I needed.
If you haven't tried Greek yogurt, I suggest giving it a try. Greek yogurt is strained yogurt so most of the whey is removed. This causes it to be very thick and creamy. It is heavenly! Everyone in our family enjoys it and I even use it as an alternative to sour cream. If you aren't ready to eat the plain variety, add some jam or honey until you get used to the tartness although I think plain Greek yogurt is milder than regular plain yogurt. I have been eating plain yogurt so much that now if I try to eat a flavored variety it seems way too sweet. I normally buy greek yogurt at Costco because it seems to be cheaper. My favorite brand is Fage (pronounced fa-yeh)but the last time I was in Costco they had a plain greek yogurt under their own brand which seemed pretty good and was actually more affordable than the Fage.
Fruit and Yogurt Parfaits
Ingredients:
plain greek yogurt
diced strawberries (or fruit of your choice)
granola (or coconut-almond granola)
Directions:
In a small bowl (or jar), put a couple of spoonfuls of plain yogurt. Top with diced strawberries and another layer of yogurt. Finish the parfait by topping with homemade granola. Enjoy!
*I bought my jars at the grocery store but here is a link if you are interested. I love cool canning jars and these were a must when I saw them.