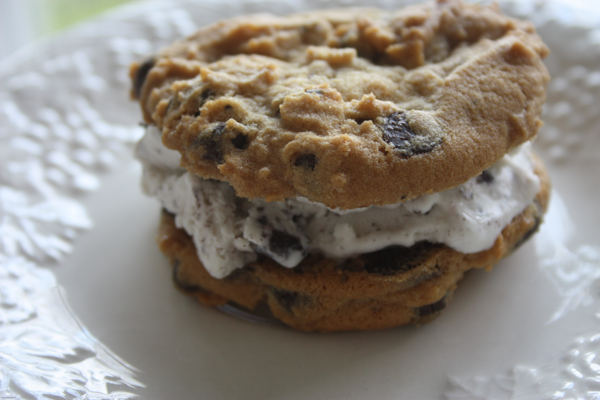 This is the last week of summer vacation for us. I can't believe it is already time to start thinking about packing lunches, homework, PTA meetings, and soccer practice schedules. Can I run away and hide at the beach? Probably not. I guess I just have to face the facts.
Part of winding down our summer means making the most of the time we have left. That means we will be hitting the pool hard this week and soaking in as much fun in the water as possible. I also like to do some other fun things as a last hurrah. I anticipate a trip to the local science museum to get the kids geared up for learning and ice cream treats and s'mores are sure to fit into our schedule as well.
I thought it was only appropriate to share a treat that is a favorite of ours. We love ice cream sandwiches, but if you make them out of these cookies they are even more delicious!!!! I hope you end the summer with a bang at your house and if school has already started I think these would make an excellent after-school treat.
Ice Cream Cookiewiches
Ingredients:
cookies (use your favorite recipe, chocolate chip, chocolate peanut butter chip, sugar cookies, etc…)
favorite flavor of ice cream (we love cookies and cream but this peanut butter is also great)
Directions:
Using cooled cookies match two cookies so the shapes are similar. Let your ice cream soften so it is easy to scoop and more importantly squish between the cookies. Place the scooped ice cream on the bottom side of a cookie and top with the matched cookie. Slightly squeeze the two cookies together so that the ice cream spreads to the edges. Enjoy!