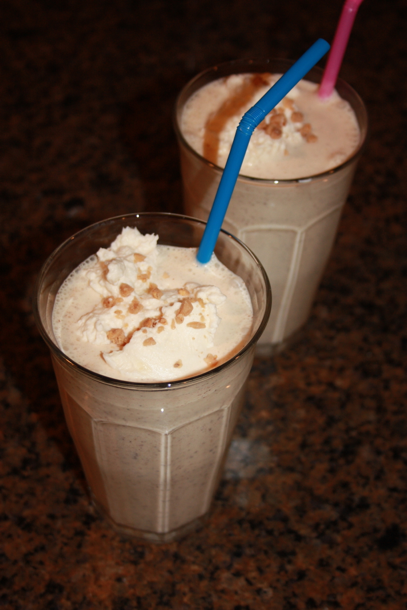 We are in the home stretch of summer vacation. I am trying to savor each and every moment with my boys: pool time, Sonic runs for 1/2 price slushes, soccer practice, figuring out how to fit in dinner around those practices and trying to figure out how we are going to get back to a school time schedule. Summer has been fantastic this year; different from years past but still great. We haven't been to the pool as often, but my boys have played outside more. We love our new neighborhood and the kids play great together for the most part. I hope this summer will be one that my boys look back on as one of their favorites.
As we are trying to get our mind around a more structured life, I am gearing myself up to get back into the gym and cut some excess sugar out of my diet. Why are ice cream, milkshakes, and fruity drinks so delicious and tempting? If you are trying to limit yourself on these treats close this post right now.
If you are still with me, this is a great end of summer treat. I had mentioned these to Jeffrey and we had everything we needed for them. Even though I wanted one, I kept telling Jeffrey that we didn't need them. Well Jeffrey must have known that I really wanted them so he headed to the kitchen and started on them.
Let me tell you this is one FANTASTIC milkshake. It is so rich and delicious. I loved, loved, loved it. It will be another great memory for my summer. Not so much for William and Tyler because we waited until they were headed to bed to make them. Hope you have a great last few days of your summer vacation. More structure is a good thing. Now on to some menu planning so we can make it through soccer season. I will be sharing our menus soon.
Browned Butter Toffee Milkshakes
ingredients:
4 tablespoons butter
2 1/2 cups vanilla ice cream
1/2 cup milk
1/2 cup chopped toffee candy bar (Heath or Skor)
Whipped cream and extra chopped candy bars for garnish, if desired
directions:
In a small saucepan, melt the butter over medium-low heat and continue to cook, swirling occasionally, until butter turns golden brown and has a nutty aroma. Remove from heat. Pour into a bowl to stop the cooking, leaving any burned sediment behind; let cool completely.
In blender combine the vanilla ice cream, milk, toffee and cooled brown butter. Blend until smooth. Pour into glass and garnish with whipped cream and toffee, if desired. Serve immediately.