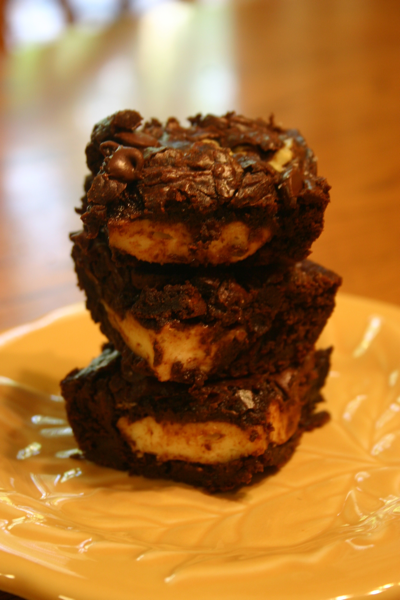 Several weeks ago,I checked the mail and found a box. I was excited because I hadn't ordered anything and it is always nice to have something in the mail besides bills and junk mail. When I opened the box, I was even more excited. The box contained brownies!  Needless to say I was speechless. I then found the card and realized it was one of my readers who had sent me the brownies as a gift.  Super cool! (I am not soliciting gifts, but it was super cool and totally made my day.)
Sarah,whom I have never met and found out about my blog from a friend, thought I would enjoy the brownies.  (She was right!) She had seen an episode of "Throwdown with Bobby Flay" where the Vermont Brownie Company was on the show.  As might seem obvious, both Bobby Flay and the folks from the Vermont Brownie Company had of course made brownies (You can watch here). What was so special about the winning brownies was that they included goat cheese (chevre). (I found out all of this info after emailing Sarah to say thank you!) So I totally had to check out the episode and searched on the Internet to watch it.  The brownies that I received were a variety pack, but after hearing about their famous brownie I knew it would be the first one I tried. It was amazing! I loved the complexity of flavors. After emailing Sarah again she told me she thought I could make a variation of them using my Hepburn brownie recipe. She was right. I bought some goat cheese and had been planning on trying to recreate the recipe for weeks, but never got around to it until Memorial Day.
We were going to eat with some friends (who happen to be foodies), and I knew they would be excellent guinea pigs for my recreation attempt.  While they had not tried the original, I knew they would appreciate the complexity of flavors. Overall, I think my attempt at recreating the brownie was a success. I am sure I will continue tweaking it a bit just because that is how I am; at the same time Jeffrey thought it was definitely blog ready so here you go! I will tell you that these brownies tasted better once they had cooled completely. I ate some while they was still warm, but found that the one I ate the following day was better once the brownie really sets. If you don't think you would like the addition of goat cheese and haven't tried the Hepburn brownies you owe it to yourself to make them tonight. While I love the variety the goat cheese added, I still LOVE the original Hepburn brownies for an ultimate standard brownie. YUM!
Dark Chocolate Chevre Brownies
Printer Friendly Recipe
Ingredients:
Chevre Filling:
5.5 oz. chevre (goat cheese), room temperature (I used half of a 11 oz. log but you could use anywhere from 4 ounces to 6 ounces)
1 tablespoon powdered sugar
1 egg
1 tablespoon flour
Hepburn Brownies:
¼ cup flour
½ teaspoon ground cinnamon
¼ teaspoon salt
1 stick (8 tablespoons) unsalted butter, cut into 8 pieces
1/2 cup unsweetened cocoa powder
2 teaspoons instant espresso powder (This just brings out the chocolate flavor and does not overpower or leave a coffee flavor.)
2 large eggs
1 cup sugar
1 teaspoon vanilla extract
4 ounces bittersweet chocolate, coarsely chopped (I usually substitute chocolate chips since that is what I have on hand.)
¼ cup chocolate chips for sprinkling over the top before baking
Sprinkle of coarse kosher or sea salt
Directions:
Center a rack in the oven and preheat the oven to 325° F. Spray an 8-inch square baking pan with non-stick cooking spray. (You could also butter the flour the pan, but I have never had a problem with just using the spray.)
Combine the goat cheese, powdered sugar, egg, and tablespoon of flour using either a hand mixer or stand mixer, scraping down the sides until the mixture is smooth. Set aside.
Whisk the flour, cinnamon, and salt together.
Put the butter in a medium saucepan and place the pan over low heat. When the butter starts to melt, sift the cocoa over the butter and add the instant espresso. Continue to cook, stirring, until the butter is melted and the cocoa and espresso are blended into it. Remove from the heat and cool for about 3 minutes.
Using a whisk or rubber spatula, beat the eggs into the saucepan one at a time. Next, stir in the sugar and vanilla, followed by the dry ingredients, and chopped chocolate. Scrape half of the batter into the pan. Gently spread the chevre mixture on the brownie batter. Dollap the remaining batter over top the chevre and use a toothpick to gently swirl. Sprinkle chocolate chips on top.
Bake for 30 minutes, at which point the brownies will still be gooey but the top will have a dry papery crust. Sprinkle with coarse salt. Transfer the pan to a rack and let the brownies cool for at least 30 minutes.