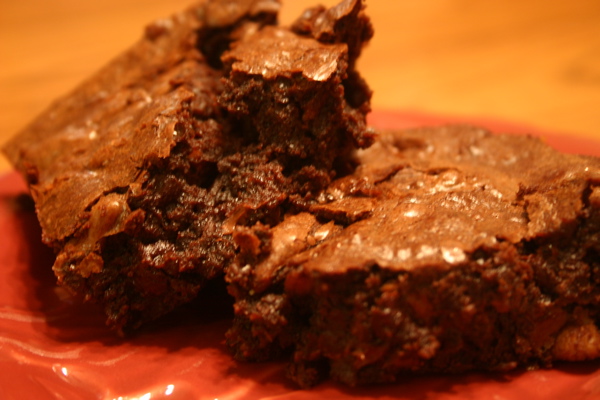 Brownies are one of my favorite things!  I am such a sucker for brownies.  I admit that I keep a box of Ghiradelli brownies on hand for when I have a hankering for brownies, but might be too lazy to make them from scratch. Sometimes you just need something quick and those brownies are delicious for something out of a box.  (I know that they are because the other day at Costco they were offering samples of them. Tyler and I may or may not have gone by the sample 2 times.)
Most of the time I prefer to make brownies from scratch, and this recipe is my all-time favorite to make from scratch.  The first time I made them, I fell in love and they became my "go-to" recipe.  I called Jeffrey multiple times trying to describe how wonderful they were over the phone. (When you try them at home you will understand!) I'm pretty sure he thought I had lost my mind.  After talking to Jeffrey, I also called my neighbor and told her she had to come have a brownie because they were amazing. She gladly came over and enjoyed them with me. Secretly she wondered how many I had already eaten due to my spastic behavior. I promise they are just that good! Once Jeffrey got home and tasted them, he realized that I wasn't exaggerating and that they really were wonderful.
William and Tyler do not care for them as much as some of my other brownies since these are loaded with pecans. That is perfectly fine with us.  I am happy to enjoy the pan with Jeffrey after the boys are already in bed. Honestly, due to the espresso powder in them I would rather them not be my kids "favorite" brownie.  I am sure as they get older they will begin to love them as much as Jeffrey and I do, and then I will have to start doubling the recipe.
Hepburn Brownies
Printer Friendly Recipe
1/4 cup flour
1/2 teaspoon ground cinnamon
1/4 teaspoon salt
1 stick (8 tablespoons) unsalted butter, cut into 8 pieces
1/2 cup unsweetened cocoa powder
2 teaspoons instant espresso powder (This just brings out the chocolate flavor and does not overpower or leave a coffee flavor.)
2 large eggs
1 cup sugar
1 teaspoon vanilla extract
1 cup chopped pecans
4 ounces bittersweet chocolate, coarsely chopped (I usually substitute chocolate chips since that is what I have on hand.)
Center a rack in the oven and preheat the oven to 325° F. Spray an 8-inch square baking pan with non-stick cooking spray. (You could also butter the flour the pan, but I have never had a problem with just using the spray.)
Whisk the flour, cinnamon, and salt together.
Put the butter in a medium saucepan and place the pan over low heat. When the butter starts to melt, sift the cocoa over the butter and add the instant espresso. Continue to cook, stirring, until the butter is melted and the cocoa and espresso are blended into it. Remove from the heat and cool for about 3 minutes.
Using a whisk or rubber spatula, beat the eggs into the saucepan one at a time. Next, stir in the sugar and vanilla, followed by the dry ingredients, nuts, and chopped chocolate. Scrape the batter into the pan.
Bake for 30 minutes, at which point the brownies will still be gooey but the top will have a dry papery crust. Transfer the pan to a rack and let the brownies cool for at least 30 minutes.
Cool completely before cutting. (Just kidding…I can never wait and don't expect you to either.)
Hope you enjoy them.
Adapted from Dorie Greenspan's Baking from My Home to Yours.