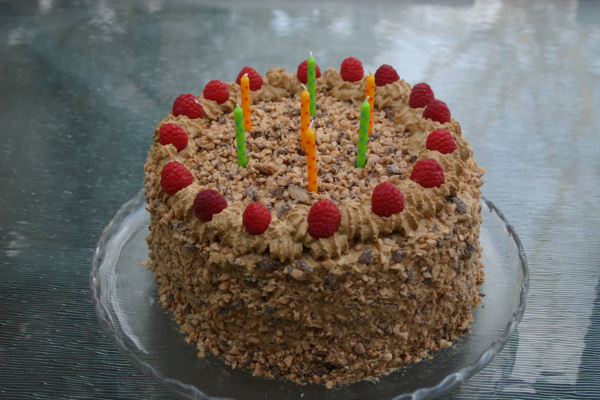 Each year, there is an annual task that requires all of my creative energy. Several weeks before Dinah's birthday, I start asking her what she wants. In the past, I've purchased cakes from Cold Stone (which are delicious!).  Last year I made her this cake.  It was a hit and it was the first time I made a three layer cake. This year, I asked Dinah what she wanted. I suppose that she figured I was ready for a new challenge.
It is a joy to create a treat for Dinah because she does so many amazing things for our family. She goes to soccer games, plans outings, and does countless other things around the house (including putting up with me!).  When it is time to celebrate her and the gift that she is to our family, I want to do my best to honor her and all she does.  At the end of every year's birthday, I always wish I could have done more because no matter what I do I feel that it isn't enough—not because Dinah doesn't appreciate what I've done—it is because I love her so much.
I'm sure you will see over the next few weeks some of the other things we have done in a culinary way to celebrate her birth.  This decadent treat was what she requested this year and I've done my very best to honor my best friend, the mother of my children and the woman I love more than any other person here on earth. I was able to provide a few little gifts this year, and my final gift is this post and wishes for a great year filled with good blog posts, lots of comments from friends, and more recognition of all the gifts and talents Dinah has!  I love you and hope this treat says that! So raise your glass of milk, grab a slice and toast a great person!
–Jeffrey
Toffee Brownie Torte
Printer Friendly
Yield: about 20 servings
Ingredients:
Brownies:
2 cups (4 sticks) unsalted butter
16 oz. bittersweet chocolate, coarsely chopped
3 cups sugar
8 large eggs
2 tbsp. vanilla extract
2½ cups all-purpose flour
½ tsp. salt
Frosting:
3 cups chilled heavy whipping cream
1/3 cup confectioners' sugar
1 tsp. vanilla extract
2 tbsp. instant espresso powder dissolved in 2 tsp. boiling water, chilled
Filling:
16 oz. mascarpone cheese
2 tbsp. instant espresso powder dissolved in 2 tsp. boiling water
½ cup confectioners' sugar
2 tsp. vanilla extract
Pinch of salt
1 cup reserved frosting (above)
For garnish:
2 cups chopped toffee bits or finely chopped toffee bars
Directions:
To make the brownie layers, preheat the oven to 350˚F.  Grease the edges of three 9-inch round cake pans and line the bottoms with parchment paper.
Prepare a double boiler with a couple of inches of water and bring the water to a simmer. Place butter and chocolate in the top of the double boiler. Heat the mixture until both ingredients are melted and smooth stirring as needed.
Add chocolate and butter mixture to a large bowl. Let the mixture cool a bit (you don't want scrambled eggs). Whisk in sugar, vanilla extract and eggs until your batter is smooth. (This step may take a while depending on your skill with the whisk. Don't stop until it is smooth.) Stir in your flour and salt and mix just until those ingredients are incorporated.
Evenly divide the batter between your three prepared cake pans. The batter will be thick and you may need to smooth it out a bit. Bake the brownie layers for 20-25 minutes. Depending on your oven, you my need to rotate the layers during cooking. The brownie layers should be firm to the touch. Cool the brownies for 30 minutes inside the pan. Free the layers using a knife (run it around the edges) and invert the pan onto a wire rack. (I had to tap the bottom of the pan vigorously to get it to release.) Remove the parchment paper from the layer and cool completely.
After the brownies have finished cooling, you will need to make the frosting. Put heavy cream in the bowl of a stand mixer fitted with a whisk. Whip the cream on medium to high speed until you have soft peaks. Blend in your vanilla, espresso mixture and sugar until everything is combined. Move the frosting to a different large bowl.
To make the filling, use the same bowl on your stand mixer. (I honestly didn't see a strong reason to wash the bowl between the frosting and the filling). Remove the whisk attachment and switch to the paddle attachment. Place mascarpone cheese, sugar, vanilla, espresso liquid and salt in the bowl. Beat the ingredients at a medium speed until your mixture is well blended and fluffy. This process will probably take around 2 minutes. Fold in 1 cup of your frosting.
Assemble your torte by putting a large dollop of frosting down on cake plate. Put one brownie layer with the bottom (flattest side) up. Evenly spread half of your filling mixture on the layer. Put another brownie layer bottom (flattest side) down. Evenly spread the other half of your filling mixture on the layer. Put the final brownie layer with the bottom (flattest side) up. Cover the entire torte with frosting reserving a cup or so for decorating. Place the toffee bits on the top and sides of the cake. Pipe remaining frosting on the top of the torte to decorate. Garnish with fruit. Refrigerate until ready to serve.