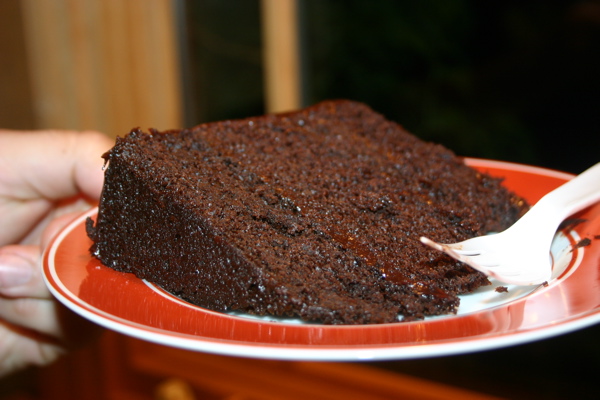 One summer while vacationing with friends in Hilton Head Island, SC, I had a dessert called the Chocolate Lethal Weapon. It was good, but it was no lethal weapon. This chocolate cake, however, is a lethal weapon! I first had this cake a couple of years ago for a friends birthday. Her grandmother made it for her. After eating the cake at the party, I had several dreams about the cake. I am not joking! It is that good.
My friend's grandmother was gracious enough to share the recipe with me, and I have now made it several times for special occasions (Jeffrey actually even made it for my birthday this past spring). Every time I bite into this cake, it still amazes me. It is a deep, dark, moist, chocolate cake but the icing on the top is what makes this cake lethal. One pound of chocolate!!!! You will need to drink a nice tall glass of milk or strong cup of coffee but either way you will not be disappointed.
You will make quite a few  dirty dishes while preparing the cake, but it is totally worth it. Go ahead make the mess in the kitchen, take that extra walk (or do some extra exercise), invite some friends over and enjoy this cake! It is truly worth the extra work and you definitely will not be disappointed!
Triple Chocolate Layer Cake
Ingredients:
For cake layers:
3 ounces semisweet chocolate (Baker's is what I use.)
1 1/2 cups hot brewed coffee
3 cups sugar
2 1/2 cups flour
1 1/2 cups unsweetened cocoa powder
2 teaspoons baking soda
3/4 teaspoon baking powder
1 1/4 teaspoons salt
3 large eggs
3/4 cup vegetable oil
1 1/2 cups well-shaken buttermilk
3/4 teaspoon vanilla
For ganache frosting:
1 pound fine-quality semisweet chocolate (I use Ghiradelli.)
1 cup heavy cream
2 tablespoons sugar
2 tablespoons light corn syrup
1/2 stick (1/4 cup) unsalted butter
Directions:
Grease and flour 3 9-inch cake pans. (You can also spray with Baker's Joy.) Preheat oven to 300 degrees.
Finely chop 3 ounces of chocolate and combine with hot coffee in a bowl. Let mixture stand, stirring occasionally until the chocolate is melted and mixture is smooth.
Sift together sugar, flour, cocoa powder, baking soda, baking powder, and salt into a large bowl. In another large bowl beat eggs until thickened slightly and lemon colored (about 3 minutes with a standing mixer or 5 minutes with a hand-help mixer.) Slowly add oil, buttermilk, vanilla, and melted chocolate mixture to the eggs, beating until well combined. Add flour mixture and beat on medium speed until just combined. Divide batter between pans and bake in middle of oven until a tester inserted in center comes out clean, about 45 minutes. (If using 2 10-inch pans increase time to 1-hour or 1 hour 10 minutes.)
Cool layers completely in pans on racks. Run a knife around edges of pans and invert layers onto racks. Cake layer may be made 1 day ahead and kept, wrapped in plastic wrap, at room temperature.
Finely chop chocolate for frosting. In a small saucepan bring cream, sugar, and corn syrup to a boil over low heat, whisking until sugar is dissolved. Remove pan from heat and add in chocolate, whisking until chocolate is melted. Cut butter into pieces and whisk in to frosting until smooth.
Transfer frosting to a bowl and let it cool, stirring occasionally, until spreadable. (It may be necessary to chill but I have never had to chill mine.)
Spread frosting between cake layers and over the top and sides. Cake keeps, covered and chilled for 3 days. Serve at room temperature though.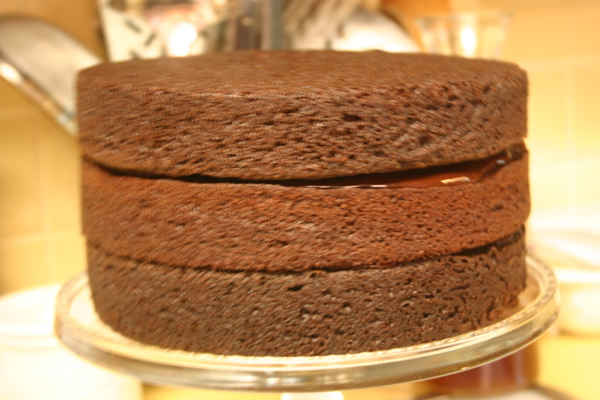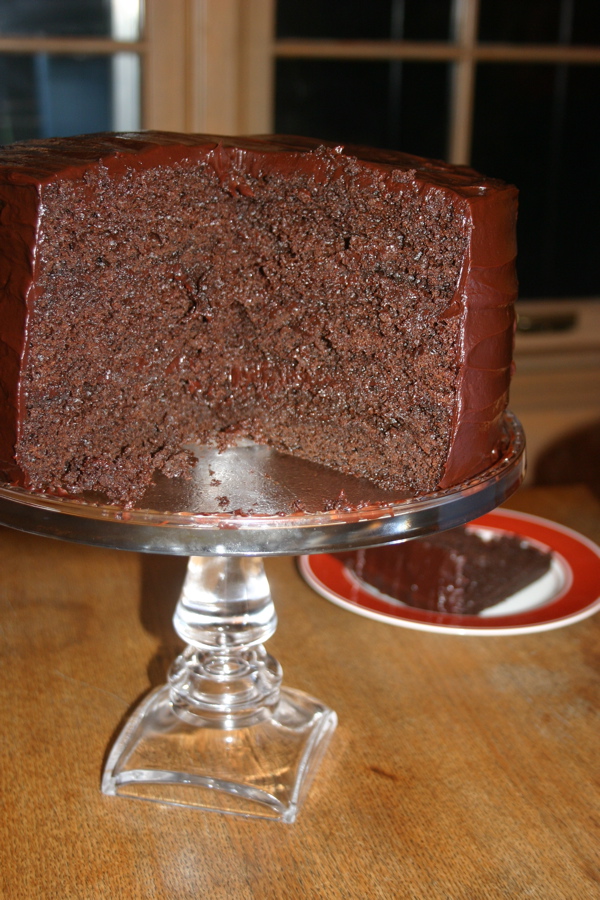 Adapted from Epicurious