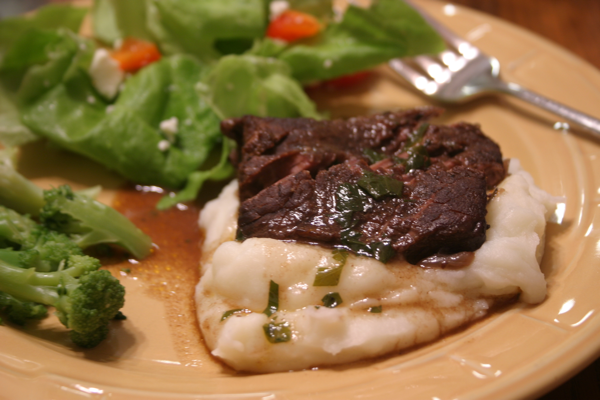 Last Saturday, the day I had to deliver and serve the 100th Birthday cake, we were having friends over for dinner. I don't know why I always do this to myself. It seems like when I am busy, I am really busy! Everything just seems to be on the same day or back to back. Well having friends over is very important to Jeffrey and me so we pushed through the everything else and came up with an amazing dinner.  We served the meat with mashed potatoes, steamed broccoli, salad and French bread. The food was great! We had a good time hanging out with our friends and playing games.
Since I knew my time would be limited on Saturday, I chose slow-cooker short ribs. I had never cooked short ribs before, but they had been on my short list of items to do for quite sometime so I knew it was perfect timing. The recipe I had came from America's Test Kitchen and the food did not disappoint us. While this is not a recipe you can easily throw into the crock-pot quickly in the morning like my Italian beef recipe, it is definitely worth the effort and can be prepped the evening before so all you have to do is turn the crock-pot on in the morning. (That is what I did.) While I did have some prep work the evening before, it was nice that on Saturday all I had to do was retrieve my crock-pot from the fridge and turn it on. At 6:00 we were feasting on a wonderful meal. Some of the steps in instructions seemed strange (I must admit), but the outcome was totally worth it. I have not been disappointed with the recipes I have tried from America's Test Kitchen regardless of how strange or different the techniques seem. They seem to know what they are doing.
Also, I'm going to work on adding "printer friendly" versions of all the recipe's I post.  Since this is my first attempt at that, let me know if you have any problems accessing or printing the recipe.
Slow-Cooker Braised Short Ribs
Ingredients:
5 pounds bone-in beef short ribs, trimmed
salt and pepper
2 tablespoons oil (vegetable or canola)
2 cups chopped onions
1 carrot, peeled and chopped
1 celery rib, chopped
2 tablespoons tomato paste
1 teaspoon dried thyme
2 cups dry red wine
2 tablespoons balsamic vinegar
2 cups chicken broth
2 tablespoons Minute tapioca
2 bay leaves
2 tablespoons chopped fresh parsley
Directions:
Insert a knife between the rib and meat and staying as close to the bone as possible saw the meat off the bone. Continue until all the ribs have been removed. Set aside the meat. Arrange the bones in a 9 by 13 baking dish and microwave until well browned, 10-15 minutes, rearranging the bones halfway through to insure even browning. Transfer to the bottom of your crock-pot.
Pat the meat dry with paper towels and season with salt and pepper. Heat the oil in a 12-inch skillet over medium-high heat until just smoking. Cook the meat until well browned (about 5 minutes per side). Transfer to the crock-pot.
Add your onions, carrot, and celery to the skillet (just used for browning the meat) and heat over medium heat until browned, about 8 minutes. Stir in the tomato paste and thyme cooking until beginning to brown, about 1 minute. Stir in the wine and vinegar and simmer, scraping up any browned bits, until reduced to 1 cup, about 5 minutes. Stir in the chicken broth, tapioca, and bay leaves and bring to a boil. Transfer the sauce to the slow cooker and pour over the meat.
*This is where I refrigerated the mixture overnight.
Cover the crock-pot and cook on low until the meat is fork-tender, about 8 hours. You can also cook on high for 4-5 hours. Transfer the meat to a serving platter. Strain and defat the cooking liquid and discard the solids. Stir in the parsley and season with salt and pepper to taste. Pour a small amount of the sauce over the meat, reserving the remaining sauce to be served along side. We enjoyed our meat and sauce served atop mashed potatoes.
Adapted from The Best of America's Test Kitchen 2011