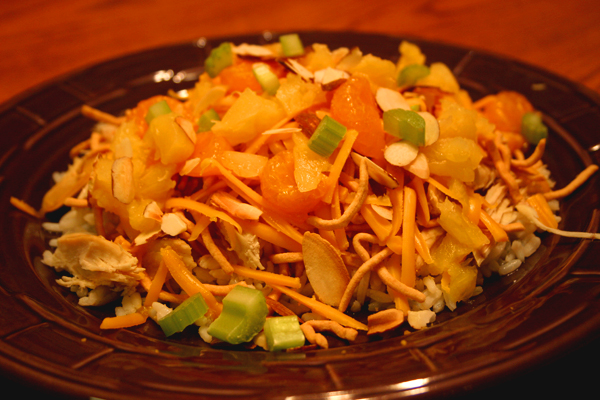 If you are anything like me, I know that you are starting to tire of snow and are ready for springs warmer temperatures. I know that "snow on a mountain" is worth your time and won't leave you cold.  When I was in college, I was fortunate to be able to have a home cooked Sunday lunch every week thanks to Jeffrey's grandparents, aunts, and uncles.  It was such a treat!  We would regularly have 20 plus people on a Sunday and no one went away hungry.
Snow on a mountain was one of the meals that we would have and it quickly became a favorite.  I still enjoy it at my house, but I honestly don't think I have it on the rotation nearly enough.  This past Sunday, we had family over to celebrate Jeffrey's birthday a little early.  When I sent out the last minute  invitation, I honestly did not think we would be getting together so quickly.  So when I heard back from his siblings saying lunch on Sunday would be perfect, I was somewhat at a loss on what to plan for the meal.  Then I thought about snow on a mountain (I guess I was inspired by the weather) and knew it would be perfect.
This recipe is great for a group because it scales easily and everyone can contribute to the meal with little effort.  The assortment of flavors and textures is very pleasing and even the pickiest eaters can find a combination that they enjoy.
Snow on a Mountain
Ingredients:
shredded cooked chicken (check here for how I cook my chickens)
cooked rice
mandarin oranges, drained
crushed pineapple, drained
chow mein noodles
shredded cheddar cheese
sliced almonds
shredded coconut
celery
soy sauce
chicken broth thickened with corn starch to make a thin gravy
Directions:
I put each of the items in a separate bowl on a lazy Susan. Starting with rice on the bottom of your plate. Layer chicken, followed by the assortment of condiments and top it off with hot gravy. I would suggest the proper order for layering your dish, but depending on who you ask each person in our family has our own "perfect" layering style. Instead of causing a heated family debate, I will let you choose the best layering for your mountain. Although in honor of the title, I would suggest to actually have snow on the mountain make sure the coconut is at the top of your pile of yumminess.
To make the gravy mix 1-2 tablespoons of cornstarch with about the same amount of cold water stirring until the corn starch is dissolved. Gradually drizzle the corn starch mixture into hot chicken broth stirring to prevent it from becoming lumpy.
If you want to serve this as a pot luck. Here is a break down for your guests.
1 guest bring 2 2-liters
1 guest bring muffins or dinner rolls
1 guest bring shredded cheese
1 guest bring chow mein noodles
1 guest bring package of sliced almonds
1 guest bring 2 cans mandarin oranges
1 guest bring 1 can crushed pineapple
1 guest bring chopped celery, soy sauce
1 guest bring dessert
I usually provide the chicken, rice, and gravy since they need to be served hot.