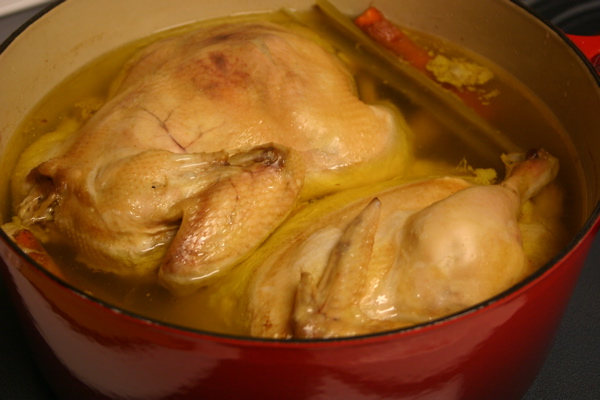 Friends are always asking me what I cook for dinner. Sometimes it is a complex recipe but most of the time it is something that can come together fairly quickly, especially during the week. I utilize shortcuts wherever I can as long as they don't compromise the quality of the food.
Last week, I catered a lunch and chicken was the protein of choice. I was cooking a couple of whole chickens for the lunches so I decided to go ahead and cook two more, and then blog about cooking chickens and then using them for easy meals throughout the week.
Some of the recipes are "comfort food" for my family. Some are just delicious recipes that we like for an easy meal. One of my all time favorites did not make it into the rotation this week so be prepared for more recipes using chicken in the future. This week though I will be posting 5 times showing you how we used our two cooked chickens. I hope you enjoy.
I like to cook my chickens either in a large pot or crock pot with a little bit of water. I throw in a couple of celery stalks, carrots, and an onion that has been halved to add flavor to the broth.  If you don't  have time to shred the chicken when you cook it, I would suggest going ahead and getting rid of the skin and bones so you can shred it or cut it up quickly when you are ready to use it.  After cooking the chickens, make sure you save the broth for future use.  I usually keep a couple of mason jars on hand for the broth and refrigerate it for later use.
Southwestern Chicken Wraps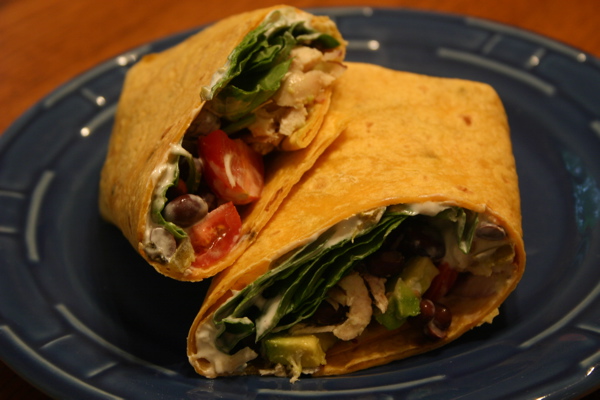 Ingredients:
3/4 cup sour cream
3 tablespoons pickled jalapenos, chopped
2 tablespoons freshly squeezed lime juice
4 cheddar-jalapeno wraps (or wrap of your choice)
3 cups baby spinach
3 cups cooked chicken, shredded
1 can black beans, rinsed and drained
1 cup chopped tomato (I like to use grape tomatoes sliced in half.)
1 small red onion, thinly sliced
1 avocado, thinly sliced
Directions:
In a small bowl, combine sour cream, jalapenos, and lime juice. Season with salt and pepper to taste.
In the center of the wrap spread a couple of tablespoons of the sour cream mixture. Top with a handful of spinach, chicken, black beans, tomato, onion, and avocado.
To fold, turn two of the sides in towards the center folding them over the filling then roll up ending with the seam side down. Cut in half and enjoy. I like to serve mine with tortilla chips and salsa. Add a fruit salad to round out the meal.
Adapted for Everyday Food