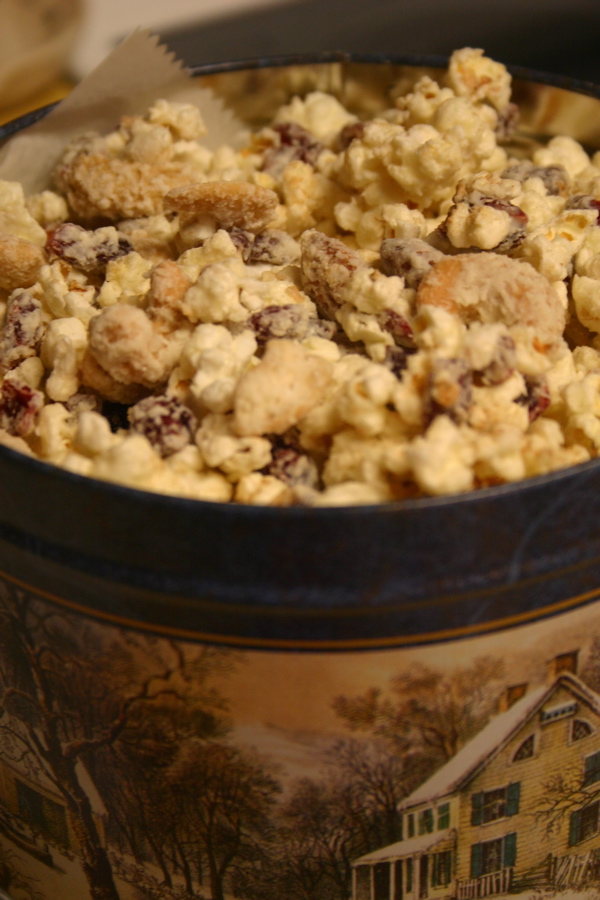 This treat, like the ritz cracker treats, is ultra easy and very delicious. It has a great balance of salty and sweet flavors and can be thrown together in no time. I thought this week was going to be a little less hectic than the past few, but unfortunately it has been just as crazy. The only advantage is that I will be a happy beneficiary of my current labors (or at least quite a few of them).
At home, I have been baking, baking, and doing even more baking as well as preparing for a trip to Colorado. In the midst of all the craziness, one of my friends and fellow PTA members handed me an empty tin.  My friends simply requested that I "fill this with something for the teacher."  She was very nice about it but my brain went into overdrive.  I needed something that would be easy to prepare and would fill the tin. When I remembered this popcorn I knew it would be great. I try to mix things up a bit, and not always give the expected. I hope our teacher enjoys it. I am sure she will still receive plenty of cookies.
I think this would also make a great snack for a Christmas Eve gathering or even to help you get started for a New Year's Eve celebration.  What plans or new treats are you looking forward to for Christmas?
Polar Bear Popcorn
Ingredients:
1 (3.3-oz.) bag butter-flavored microwave popcorn, popped
1 cup salted mixed nuts
1 cup dried cranberries
1 (12-oz.) package white chocolate morsels
1/2 teaspoon ground cinnamon
Directions
Place popped popcorn in a large bowl making sure to remove and discard any unpopped kernels. Stir in nuts and cranberries. Microwave white chocolate morsels in a 2-cup glass measuring cup HIGH for about 2 minutes or until melted and smooth, stirring at 30-second intervals. Pour melted white chocolate over popcorn mixture, stirring until well coated. Spread mixture onto a 15- x 10-inch jelly-roll pan or large cookie sheet. Sprinkle evenly with cinnamon. Let stand 15 minutes or until chocolate hardens. Break into pieces; serve immediately, or store in an airtight container up to 3 days.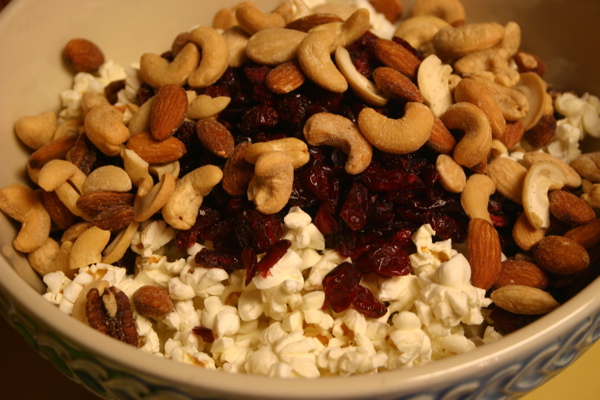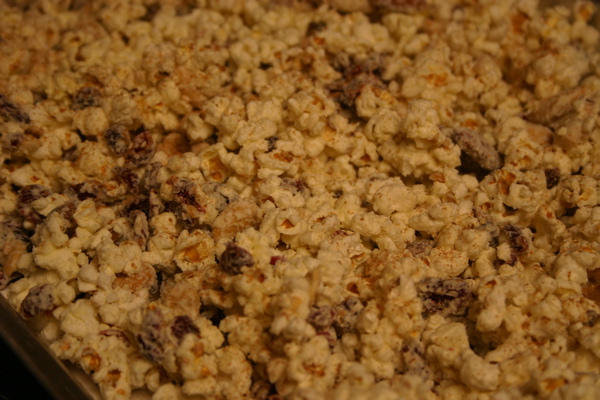 Adapted from Southern Living