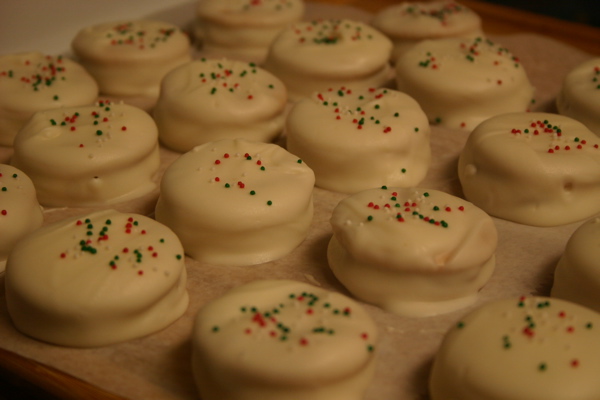 Given the time of the year, I am sure you are just as busy as I am. It's just what happens at this time of the year. I have been running from one thing to the next. With catering, kids activities, not to mention the shopping and getting ready for Christmas I have hardly had time to catch my breath.
Monday night was our monthly PTA meeting and it was a cookie swap. I had nothing planned. Do I go and hold my head in shame? I am a food blogger. They were expecting something incredible. Two hours before I was supposed to be at the meeting, it finally came to me. I love these cracker yumminess. Growing up in the South you could always count on them from someone for the holidays. I even remember a bakery where you could buy them and they were always a treat. They are just the right combination of sweet and salty. They are ultra rich, so a little goes a long ways.
Fortunately, I had bought some almond bark while it was on sale at the grocery store. You never know when you will need almond bark, right? Boy was I glad I did. The other ingredients Ritz crackers and peanut butter. I was set. While I have no idea what the name for these treasures is they are mighty delicious. Any suggestions for a name? Do you know what the name is? If so, please let me know. I am sure we can come up with some inspiration, and thank you to Angela for reminding me of these on the cookie post last week.
Peanut Butter Ritz Cracker Delights
Ingredients:
peanut butter
Ritz crackers
almond park or white chocolate chips
Directions:
Spread a generous amount of peanut butter on a Ritz cracker and top with another Ritz cracker. Coarsely chop almond bark and place in a medium sized bowl. You can either melt this over a double boiler or if you are lazy like I am put it in the microwave. Cook on high for about 2 minutes stirring after each 30 seconds. It is very important that you stir every 30 seconds so that you don't burn the almond bark. Once it is smooth and melted it is finished. Now dip your sandwiched crackers in the melted bark. I use a fork to turn the crackers over to make sure they get fully covered. Shake off gently and place on waxed paper to dry. If you want to make them more festive sprinkle with colored sugars or decorations of your choice.