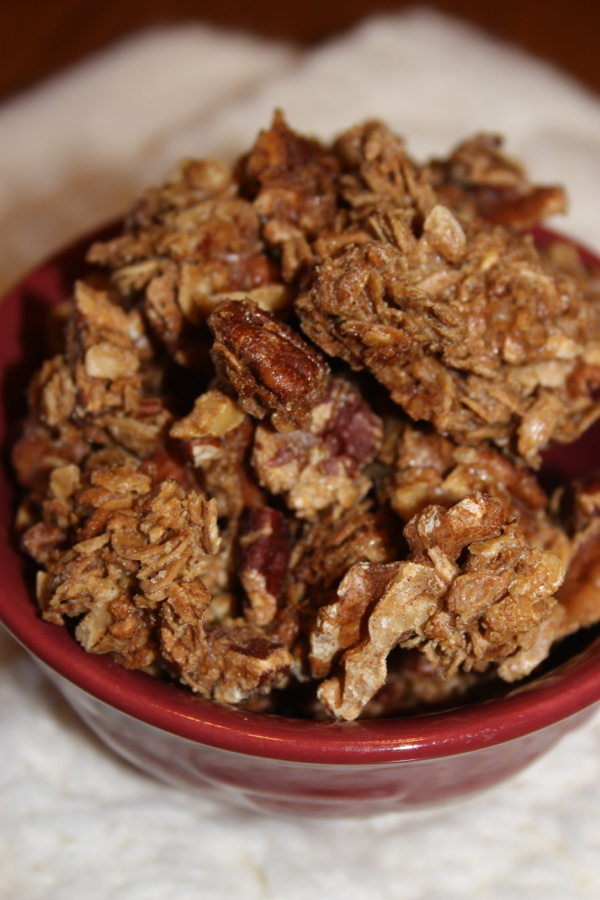 The other day I was so excited because I found out I could download books from our public library onto my iPad. The excitement quickly went away after several fruitless attempts to get the books download. I finally gave up and just handed it to Jeffrey to help me out. He later came upstairs and had a book checked out and on my iPad. He randomly picked a book just to see if it would work, but he just so happened to pick a book about my favorite coffee shop in San Francisco.
I was quite delighted the next morning as I sat and read on my iPad. I was even more delighted when I realized there was a recipe section at the end of the book. I have such fond memories of this coffee shop from the trip Jeffrey and I took to San Francisco a few years ago that I eagerly picked a few items to try. One of my favorite treats from the trip was a hand held waffle that I can't wait to try, but the granola was an easy first item on the agenda.
The granola was easy to make gluten free because all I had to do was use gluten free oats and I was set. I have always loved granola and have several favorites which I have shared on this blog. I am always a bit skeptical when I try a new granola recipe because I don't know if I will be disappointed or not. I was not disappointed at all with this recipe and think I may have a new favorite. It was so simple to make and although it does require a little bit more time in the oven than some of my other recipes it was so worth it. I love, love, love it! I even made an extra batch to throw in my suitcase for our upcoming ski trip. Give it a try and let me know your thoughts!
Brown Sugar and Winter Spice Granola
Ingredients:
1 1/2 cups packed brown sugar
1/3 cup water
4 cups rolled oats
1 1/2 cups walnuts, coarsely chopped
1 1/2 cups pecans, coarsely chopped
2 teaspoons ground cinnamon
1 teaspoon ground nutmeg
3/4 teaspoon sea salt
1/3 cup canola oil
2 1/2 teaspoons vanilla extract
Directions:
Preheat oven to 250 degrees.
In a small saucepan, combine brown sugar and water. Cook over medium-high heat, stirring constantly, until the sugar is completely dissolved and the mixture comes to a boil. Remove from heat and let it sit while you prepare the oats.
In a large bowl, combine the oats, walnuts, pecans, cinnamon, nutmeg, and salt and mix well.
Add the oil and vanilla to the brown sugar mixture and stir until thoroughly combined, then pour over the oat mixture. Using a wooden spoon stir until thoroughly combined.
Transfer to a rimmed half-sheet pan. Pat the mixture down in an even layer; it will be thick but shouldn't be higher than the rim of the pan.
Bake for 75 minutes. Remove from the oven and use a large metal spatula to flip the granola, keeping it in as large of chunks as possible. Return the granola to the oven and bake for an additional 60 minutes, until completely dry and no longer soft at all. Let cool before storing.
Store in a tightly sealed container at room temperature. It should keep for 2 weeks.