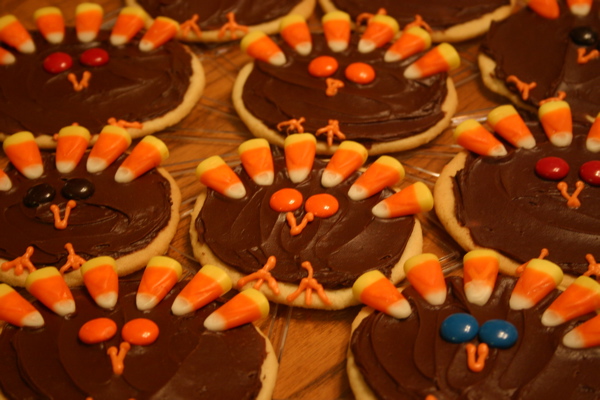 It's hard to be the mother of a 2nd grader.
Today, I am mystery reader in William's 2nd grade class. I had no idea what I was getting myself into when I signed up at the beginning of the year. After talking to several mother's about being a mystery reader, I was informed that most brought a goodie of some sort whether it be a snack, silly band, or some fun activity. As if picking a story wasn't hard enough! I had finally decided on two stories that I felt everyone would enjoy; now I had the task of incorporating some sort of treat.
The stories I have chosen are Alexander's Terrible, Horrible, No Good Very Bad Day and T'was the Night before Thanksgiving. Could the goodie be gum? Probably not, I didn't want William's teacher to have a terrible, horrible, no good, very bad day. As if being a teacher isn't a hard enough job. Dealing with 24 kids chewing gum didn't sound like a good idea. I finally decided on turkey cookies. They would go well with T'was the Night before Thanksgiving and were pretty easy to throw together. I had made them several years before when the boys were in preschool. I thought they would fit the bill perfectly. I do understand I am still giving the kids added sugar, but at least William's teacher won't have to worry about the kids getting gum in their hair like Alexander. 🙂
These cookies are a perfect treat for Thanksgiving. I think they would be excellent as decoration for a kid's table or even as a favor for everyone to take home. Not only are they easy for the kids to help assemble but they are also a great way to use some of your Halloween candy. 🙂
Since my brain is now fried from the having to deal with the responsibilities of being a mystery reader, what are some suggestions for Jeffrey's up and coming mystery reading experience in January?
Turkey Cookies
Ingredients:
1 recipe prepared sugar cookies (I like this recipe but feel free to use refrigerated dough if necessary.)
1-2 tubs chocolate frosting or your favorite recipe
candy corn
vanilla frosting tinted yellow or orange
M&M's
Directions:
Frost cookies with chocolate frosting. Make sure to have it thick enough to hold the candies in place. Using 6 candy corn kernels top the upper part of the cookie to make "feathers". Match up M&M's so that you can have matching "eyes". Using frosting tinted yellow or orange pipe a beak and feet on each cookie. Enjoy!
Adapted from Betty Crocker