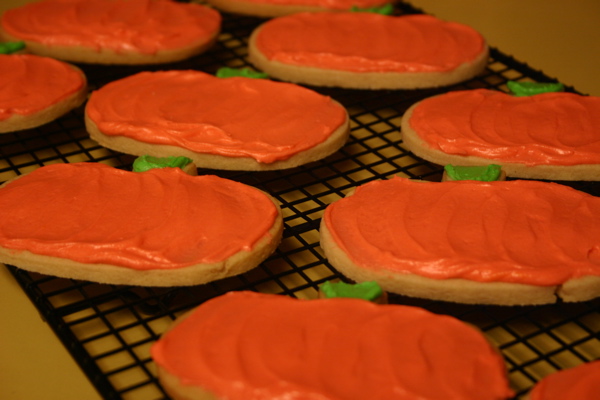 Every year at Halloween our family tradition is to make and share these cookies.  I normally make them for either William or Tyler's class and sometimes both.  There is nothing I love more than frosted sugar cookies at Halloween.  They are such fun to decorate and yummy in my tummy.
I used to be intimidated by sugar cookies.  They seem labor intensive as you have to make the dough, let it rest, and then roll it out.  As I was making this batch, I was thinking how easy they seemed.  This dough is soft (after it sits out for about 5 minutes) and is pretty easy to work with compared to other recipes I have used.  The recipe below is my go-to sugar cookie recipe.
These cookies are good with or without frosting, but the frosting makes them so much more festive.  (A great party idea is to ice the cookies and then cut face shapes out of fruit roll-ups to put on the cookies for Jack-o-lanterns.  Kids really enjoy doing this at school parties.)
I prefer to top my sugar cookies with a butter-cream frosting as opposed to royal icing.  There is just something about the butteriness that makes me happy.  I let the cookies sit out for just a bit so the icing sets up.  Still, if you use butter-cream, you will not be able to stack the cookies without risking an icing disaster.
I hope you enjoy these cookies as much as we do.  I'll post another Halloween treat on Friday.  What is something you enjoy on Halloween?
Sugar Cookies
Ingredients:
2 1/2 cups flour
1/2 teaspoon salt
12 tablespoons unsalted butter at room temperature (1 1/2 sticks)
1 cup sugar
1 egg
1 1/2 teaspoon vanilla
Directions:
Whisk together flour and salt in a small bowl. (You can sift them together if you prefer.)
Add butter to a stand mixer fitted with a paddle attachment. Beat the butter on high speed until it is creamy (about 2 minutes). Reduce the speed to medium and add the sugar slowly. Beat for another 2 minutes until the mixture is light and fluffy. You will want to stop occasionally to scrape down the bowl to insure that everything gets combined well. Add the egg and vanilla and beat for 1 additional minute, stopping halfway through to scrape down the bowl once more.
Stop the mixer and add half of the flour mixture. Beat on low for 1 minute. Add remaining flour and continue to beat until all of the flour has been incorporated and the dough starts to pull away from the sides of the bowl.
Turn the dough out onto a work surface and divide it into two equal halves. Shape each half into a disk and wrap well with plastic wrap. Refrigerate for at least 2 hours or up to 2 days.
Remove dough from the refrigerator and let stand for 5 minutes.
Preheat oven to 350°.
Working with one dough disk at a time, place the disk on a lightly floured surface and roll out the dough to a 1/4 inch thickness. Cut with the desired cookie cutters and transfer to a cookie sheet lined with a silpat or parchment paper. Place cookies about 1 inch apart on the cookie sheet.
Bake for 10-15 minutes or until cookies are slightly golden around the edges. (If cooking more than one sheet at a time, rotate the baking sheets from top to bottom and 180 degrees half-way through baking to insure proper cooking.)
Place baking sheets on a cooling rack for 5 minutes before removing the cookies from the pan. Transfer slightly cooled cookies to cooling rack and let cool completely before frosting.
The number of cookies will vary depending on the size of your cookie cutter. This time I got 22 cookies from the batch.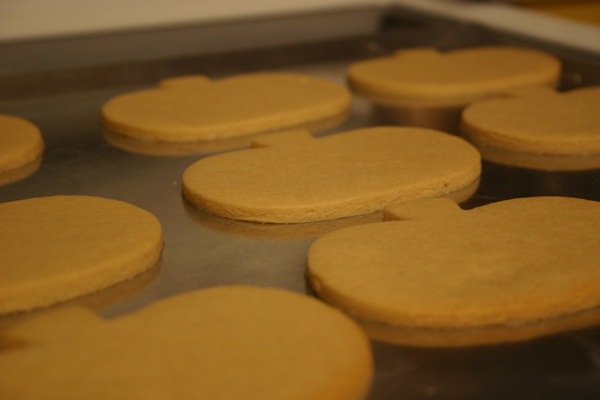 Adapted from Williams-Sonoma
Butter-Cream Frosting
Ingredients:
1/2 cup unsalted butter at room temperature (1 stick)
3 1/2 cups powdered sugar
1/4 cup milk
1 1/2 teaspoons vanilla
1/2 teaspoon almond extract (You can use 2 teaspoons of vanilla if you prefer to omit the almond extract.)
Directions:
Put butter in a medium mixing bowl and mix until it is creamy. Add remaining ingredients and beat until smooth. I start out on low and gradually increase the speed of the mixer until everything is incorporated and creamy. If adding food coloring separate into separate bowl and color as needed.