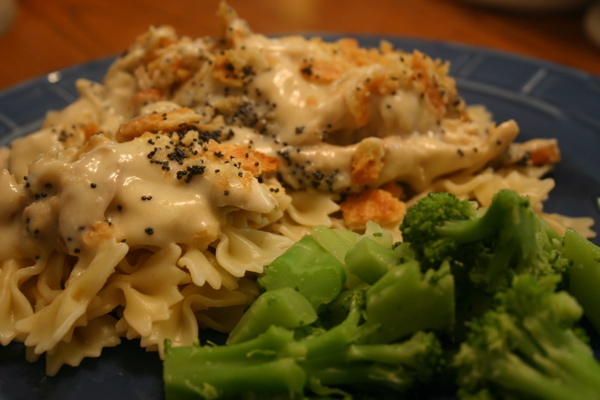 Poppy Seed Chicken is one of Jeffrey's comfort foods. I can't even begin to count how many times we have had this meal or taken it to a pot-luck. It is just delicious. When you already have chicken cooked on hand it comes together in minutes. You probably have all of the ingredients already in your pantry. (Especially if you bought poppy seeds for Lemon Poppy Seed Muffins.)
I love serving this chicken over egg noodles but really any pasta would be great. If you don't want to serve it over pasta just decrease the soup to one can and it is an excellent stand alone casserole. I personally like it a little more saucy so I can have the yumminess with some noodles. We normally round out the meal with a green vegetable (which ever one the boys are eating at the moment) and cooked carrots.
I have served this meal to clients who want a "home-cooked" dinner for traveling meeting attenders and they are always content at the end of the meal. I have heard how "homey and inviting" the food tastes. So no matter who you are cooking for, I guarantee this dish will be a winner. If you want to make it more fancy just adjust your sides accordingly. I have never had any complaints regardless of what is served beside this delicious casserole.
Poppy Seed Chicken
Ingredients:
2 lbs. bone-in chicken breasts, cooked with 1 carrot, 1 celery, and 1/2 onion (or 3-4 cups shredded cooked chicken)
1 can cream of mushroom soup
1 can cream of chicken soup
1/2 cup sour cream
1/4 cup chicken broth
30 Ritz crackers
2 heaping Tablespoons poppy seeds
1/2 stick butter
Directions:
Boil chicken with celery, carrot and onion. Shred chicken and discard bones and skin. (If not using chicken already cooked.) Spread chicken in the bottom on a 9 by 13 casserole dish. Combine soups, sour cream, and broth in a bowl. Spread soup mixture over chicken. Break Ritz crackers into large pieces over soup mixture. Pour melted butter over top of crackers. Sprinkle with poppy seeds. Bake for 30 minutes at 350 degrees.