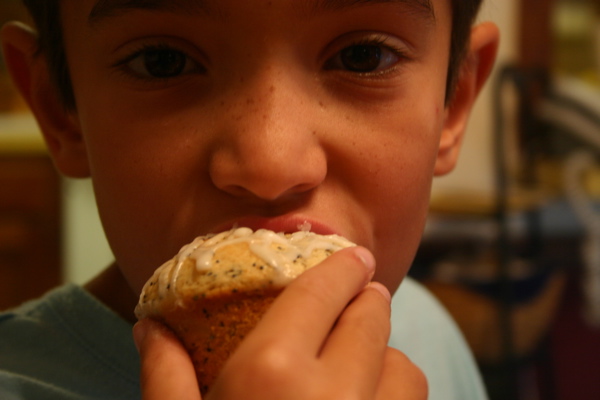 I love the cookbook Baking: From My Home to Yours
by Dorie Greenspan. I received it as a Christmas gift from Jeffrey a couple of years ago after he heard about it on NPR, and I have fallen in love with every recipe I have tried out of it. The recipes are all delicious and very easy to follow.  The cookbook also has great photography.
A couple of months ago on a Saturday morning I woke up to what every mother loves to hear: "I hate my brother." It was marvelous. I decided that I had to come up with something that would make the boys work together and change their attitudes toward each other. I grabbed my copy of this cookbook and handed it to the boys and told them to find something to fix for breakfast. William was in charge of reading the recipes and both boys had to participate in making them.
The first step in compromise and learning to work together was finding the recipe. They agreed on lemon poppy seed muffins, and when I looked over the ingredients we had all of them on hand. William then proceeded in reading the recipe and then explaining to me what needed to be done and Tyler was there ready to help. They pulled out all of the ingredients got the batter put together with minimal assistance from me. I helped them get them in the pan and put the muffins in the oven. By this point, they no longer hated each other and were eagerly anticipating tasting their wonderful creation. When the timer finally went off, we were all ready to attack. They smelled fresh and heavenly. We put the finishing touch of icing on and then sat down to devour them. What a hit! The best part was that the boys were now playing nicely together. We enjoyed a wonderful breakfast and the boys were happy that they did it all by themselves.
Lemon Poppy Seed Muffins
For the Muffins
2/3 cup sugar
grated zest and juice of 1 lemon
2 cups all-purpose flour
2 teaspoons baking powder
1/4 teaspoon baking soda
1/4 teaspoon salt
3/4 cup sour cream
2 large eggs
1 teaspoon vanilla
1 stick unsalted butter, melted and cooled
2 tablespoons poppy seeds
For the icing
1 cup confectioners' sugar, sifted
2-3 tablespoons fresh lemon juice
Preheat oven to 400 degrees. Spray a muffin pan with cooking spray or line with muffin cups.
In a large bowl, rub the lemon zest and sugar together with your fingertips until the sugar is blended well with the lemon rind. Whisk in the flour, baking powder, baking soda and salt. In another bowl, whisk the sour cream, eggs, vanilla, lemon juice and melted butter together until well blended. Pour the liquid ingredients over the dry ingredients and gently stir to blend with a rubber spatula or whisk. Do not over mix. It is better to have a few lumps then to over-mix the batter. Stir in the poppy seeds. Divide the batter evenly among the muffin cups.
Bake for 18 to 20 minutes, or until the tops are golden. Transfer pan to a rack and cool for 5 minutes before carefully removing each muffin from its mold. Cool the muffins completely before icing them.
To make the Icing:
Put the confectioners' sugar in a small bowl and add about 1 1/2 tablespoons of lemon juice. Stir with a spoon to moisten the sugar, then add enough additional lemon juice, a little at a time, to get the icing thin enough to drizzle over the muffins.