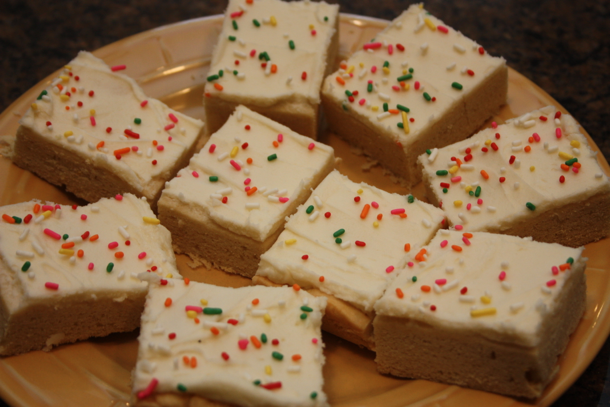 I love cookies. Sugar cookies may not be my favorite cookie (it is hard to displace a really good chocolate chip cookie); though I will confess it is really hard for me to pass up a frosted sugar cookie. I love making cut-out sugar cookies at Christmas time and since I have found a recipe similar to those Loft-House cookies you buy in the bakery section at the grocery store they have become a favorite too.
There is just something about the simpleness of a really good sugar cookie. There are times however, that I want something for dessert that is a little less time consuming then baking cookies. It may be due to the busy schedule of our family. These cookie bars are a real solution for busy schedules and still providing a yummy treat.
We currently have a house full of family. Two extra adults and 5 additional children. It is crazy but the kids are having a blast! (Honestly, so are the adults.) Anyway, I knew I wanted a dessert for this crowd. As I was looking at my sugar cookie dough and was about to start making cookies, I remembered these cookie bars. All the goodness of frosted sugar cookies, but with a fraction of the work. It is the perfect option and there are no complaints!
Frosted Sugar Cookie Bars
ingredients:
For the cookie bars:
1 cup (2 sticks) unsalted butter, at room temperature
2 cups sugar
4 large eggs
2 tsp. vanilla extract
Zest from 1 lemon
5 cups all-purpose flour
1 tsp. salt
½ tsp. baking soda
For the frosting:
1 cup (2 sticks) unsalted butter, at room temperature
1 tsp. vanilla extract
Pinch of salt
4 cups confectioners' sugar, sifted
5 tbsp. milk
Food coloring (optional)
Sprinkles (optional)
directions:
To make the cookies, preheat the oven to 350˚ F. Grease a half sheet pan (13 x 18). Combine the butter and sugar in the bowl of an electric mixer. Beat on medium-high speed until light and smooth, about 2 minutes. Mix in the eggs one at a time, beating well after each addition and scraping down the sides of the bowl as needed. Blend in the vanilla, and lemon zest. In a medium bowl, combine the flour, salt and baking soda. Stir together with a fork to blend. Add the dry ingredients to the mixer bowl and beat on low speed just until incorporated.
Transfer the cookie dough to the prepared baking sheet and press into an even layer. Bake 10-15 minutes, until light golden brown and a toothpick inserted in the center comes out clean. Transfer the pan to a wire rack and let cool completely before frosting.
To make the frosting, place the butter in the bowl of an electric mixer. Beat on medium-high speed until smooth, about 1 minute. Blend in the vanilla, salt, and confectioners' sugar until smooth, 1-2 minutes. Mix in the milk. Tint as desired with food coloring. Spread over the cookie in the pan, cut into bars and decorate with sprinkles as desired.
Adapted from Annie's Eats.