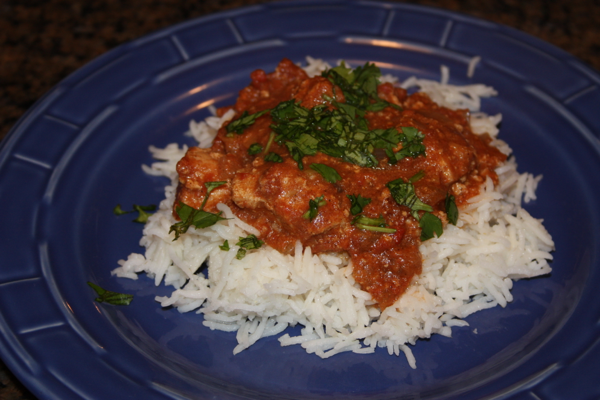 This year, in addition to eating more fruits and vegetables and exercising more I have also decided to use my crock pot more often. I have even decided to try my hand at some recipes that you freeze and then throw into the crock pot. We shall see how they go. (I know that I will be thankful for easy meals as our schedules are filling up quickly with the resumption of soccer games/practices again.)
I do love the fact that when I utilize my crock pot, dinner is ready at the end of the day. I made this tikka masala over the winter break on the day that the boys and I baked cookies all day. (Seriously, we made hundreds and hundreds of cookies for a Cookies and Cocoa open house.) After all of that baking, it was great to be able to sit down and eat a wholesome meal at the end of the day. (We may or may not have snacked/sampled a few too many cookies.) At any rate I am embracing the crock pot and keeping my fingers crossed that the recipes I have bookmarked to try turn out as well as this one did. If you are an Indian food lover or even a novice, I am sure you will enjoy this recipe. It has quickly become one of our favorites.
Slow Cooker Tikka Masala
Ingredients:
For the Chicken:
2 pounds boneless, skinless chicken breast or thighs
1 tablespoon ground coriander
1 tablespoon ground cumin
1 teaspoon Kosher salt
1 cup non-fat plain Greek yogurt
1 whole jalapeno pepper, stem removed, pepper pierced several times with a sharp knife
For the Sauce:
4 tablespoons butter
1 whole large onion, peeled and diced
6 cloves garlic, peeled and minced
1 tablespoon Kosher salt
3 tablespoons garam masala
1 piece fresh ginger, about 2-3 inches, peeled and grated or minced
1 28-ounce can crushed tomatoes
1 tablespoon sugar
2-3 tablespoons heavy cream
For Serving:
3-4 cups cooked rice, hot
cilantro for garnish
Directions:
Cut the chicken into 1-1½ inch pieces. Place the chicken in the bottom of a 6-quart slow cooker. Sprinkle the coriander, cumin and salt over the chicken, then stir in the yogurt until all the pieces are evenly coated. Place the jalapeño on top.
To prepare the sauce, melt butter in a medium pan over medium high heat. Stir in the onions, garlic, and salt. Cook, stirring frequently, until the onions begin to lightly brown around the edges. Stir in the garam masala and ginger and cook until fragrant, about 1 minute, before adding the crushed tomatoes and sugar. Stir well, scraping the caramelized bits from the bottom of the pan, and bring to a boil. Pour the sauce over the chicken in the slow cooker.
Cover and cook on low for 5 hours, or until the chicken is very tender. Stir in the heavy cream, recover, and continue cooking for another 10 minutes.
Serve over hot rice topped with a generous amount of chopped cilantro.