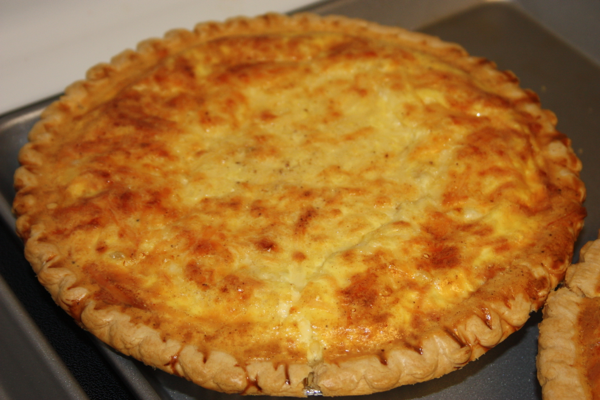 Today I am sharing another of my mom's recipes. This was always a favorite for brunch and even the men in the family seem to enjoy it. 🙂 It is easy to put together and quite delicious. I catered and made several of these last weekend for a shower and heard only good things about them.
They can easily be prepped ahead of time and then you add the egg filling once ready to bake. They are perfect for brunch or even an evening dinner if paired with a salad.
On a different note: I want to say thank you to everyone who has stuck with me over the summer. I needed a break to regroup and am glad to say I am back. Thank you to everyone who sent me kind notes. It was nice to be missed. I'm also glad to be back and sharing more recipes with you.
Quiche Lorraine
ingredients:
1 unbaked pie shell
2 onions, thinly sliced
1 tablespoon butter
4 eggs
1 1/3 cups half and half
1/4 teaspoon nutmeg
1/4 teaspoon white pepper
1/8 teaspoon tabasco
1/8 teaspoon dry mustard
1/2 lb. bacon, cooked and crumbled
1 1/2 cups shredded swiss cheese
directions:
Preheat oven to 400 degrees. Saute onions in butter and set aside.
Sprinkle bacon on the bottom of the unbaked pie shell. Add onions and cheese over top of the bacon. (If not baking immediately you can cover and refrigerate at this point.)
Approximately one hour before you are ready to serve: Combine eggs, half and half, nutmeg, pepper, hot sauce and dry mustard in a blender. Blend until combined. Place the pie shell on a baking sheet. (This will protect your oven from a mess if the quiche cooks over a bit. It will be full!) Pour the egg mixture into the shell. Place in the oven. Reduce the temperature to 350 degrees. Bake for 40-50 minutes or until puffed and golden. Let quiche cool on a wire rack for 15-20 minutes before serving.