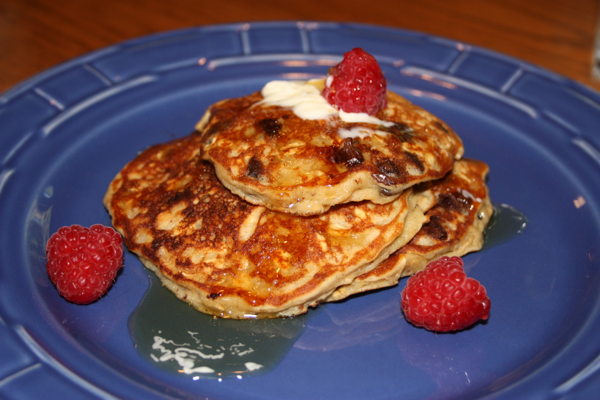 It should be no surprise to you that our family loves pancakes. After years of having them every Sunday night with college kids, they are a comfort food that reminds us of our friends who shared pancakes during those years. I have shared some of our favorites that we made before. Even though we have a large collection of favorites, I don't think that is a good reason to avoid trying new recipes. New recipes are favorites just waiting to be discovered.
The other day, we were trying to decide on what to have for dinner and I immediately thought about pancakes. It was a great option because pancakes are always a treat for dinner and Jeffrey is the pancake maker at our house. I had seen this recipe and though it needed a bit of tweaking to make it gluten free, it was super easy and you should definitely make these soon.
Jeffrey thought the new variety sounded yummy and he needed no convincing  so he quickly began making the batter. We doubled the recipe because our children inhale pancakes. We did have a few leftover, but that was only because these are rather hearty. Jeffrey decided these are his new favorite variety including banana. They are quite indulgent but in a good way.  If you need a quick supper or a hearty breakfast, consider these pancakes.  Keep in mind that we doubled what is below to feed our hungry family of four.
Oatmeal Cookie Pancakes
ingredients:
1 very ripe banana
1 teaspoon baking powder
1 egg
pinch salt
1/2 teaspoon vanilla extract
1 tablespoon peanut butter
1 tablespoon canola oil
3 tablespoons milk
1/2 cup rolled oats (we use gluten free)
1/4 cup Pamela's baking mix (or substitute other flour)
3 tablespoons semisweet chocolate chips
directions:
Preheat griddle to 325 degrees.
Mash the banana and baking powder together in a large bowl. Add the egg, oil, salt, vanilla, peanut butter, and milk stirring to combine. Stir in the oats and baking mix until just combined. Fold in the chocolate chips. Measure about 1/4 cup of batter onto a greased griddle and cook for 2-4 minutes on each side or until golden brown. Serve with fruit and maple syrup.
Adapted from the Minimalist Baker.