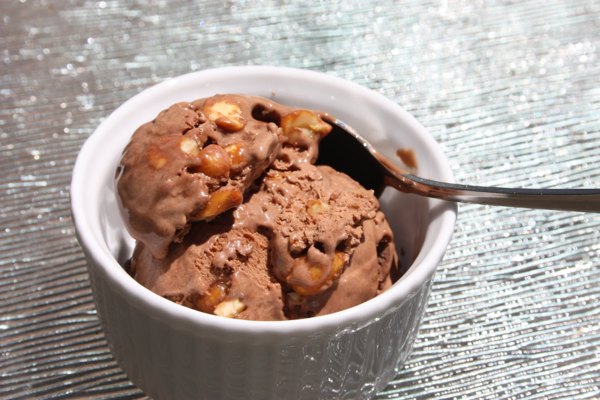 The last few days have been quite crazy. Our own end of the school year activities have filled our calendar. Then on Monday, we were waiting to hear that our family in Oklahoma was okay after the tornado. I have felt it has been a rocky couple of days. I originally planned to share this recipe with you last Friday and then on Monday, but things just got in the way. So after a few unsettling days I am finally sharing it with you. I find it quite fitting that it is rocky road ice cream. My prayers go out to Moore, Oklahoma.
Jeffrey made this ice cream for me on Mother's Day at my request and I was so glad that he did. I will be honest and say that I have not been a huge fan of Rocky Road ice cream that you buy; however, something about this recipe made me want to try it. It was fabulous and I think all four of us are converts (at least to the homemade variety).
I have shared recipes for peach-apricot, peanut butter, and strawberry-buttermilk sorbet which are all delicious, but the richness of this chocolate variety will definitely be making a repeat appearance at our home this summer.
As we are finishing the school year and have watched in horror as lives have been devastated by destruction, it makes me want to grab my family close and grab a bowl of this ice cream. Life is too short and sometimes we need to just take a moment and spend time together indulging in ice cream.
Rocky Road Ice Cream
ingredients:
2 cups heavy cream, divided
3 tablespoons, cocoa powder (Dutch-process is preferred but not necessary)
5 oz. bittersweet or semisweet chocolate, finely chopped (I used Ghiradelli bittersweet chips)
1 cup whole milk
3/4 cup sugar
pinch of salt
5 large egg yolks
1/2 teaspoon vanilla extract
1 1/2 cups miniature marshmallows
1 cup honey roasted peanuts, coarsely chopped
directions:
In a medium saucepan, combine 1 cup of the cream with the cocoa powder. Warm over medium high heat, whisking to dissolve the cocoa. Bring the mixture to a boil, reduce the heat to medium-low and let simmer for 30 seconds, whisking constantly. Remove from the heat and mix in the chocolate and whisk until melted and smooth. Stir in the remaining cup of cream. Transfer the mixture to a large mixing bowl.
In the same saucepan you just used, combine the milk, sugar and salt and warm the mixture over medium-high heat. In a medium mixing bowl, whisk together the egg yolks. When the milk mixture is warm, gradually whisk into the egg yolks, beating constantly. Return the egg-milk mixture to the saucepan and continue heating over medium-high heat, stirring constantly and scraping the bottom of the pan with a spatula, until the mixture is slightly thickened and reads 170-175 degrees on an instant-read thermometer. Remove from the heat and pour through a mesh sieve into the chocolate-cream mixture. Stir to blend. Add the vanilla and stir until combined.
Cover with plastic wrap, making sure the plastic wrap is touching the chocolate mixture so that a skin does not form. Chill mixture thoroughly in the refrigerator. (This could be made the night before.) Once the mixture is well chilled, freeze in an ice cream maker according to the manufacturer's instructions. Stir in the marshmallows and peanuts until evenly incorporated. Store in an airtight container and freeze in the freezer until ready to serve.
*We ate this directly out of the ice cream freezer and it was more of a soft-serve ice cream but after letting it harden in the freezer it was even better. So for the best results make in advance so that it can be frozen solid in your freezer.
Adapted from Annie's Eats.