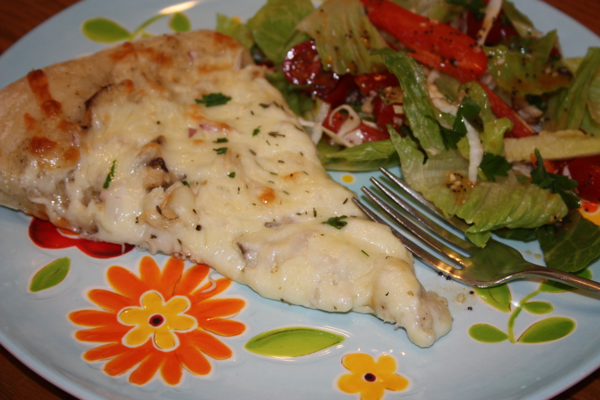 For Mother's Day this year I was completely spoiled. On Saturday, I was treated to a day with the family and shopping at one of my favorite stores that just opened in Kansas City. (I felt like I was personally responsible for the store opening based on how much I order from them over the Internet.) The boys were troopers because shopping is not their thing, but they gladly waited as I tried on item after item. Don't worry about them, they turned used their good behavior to convince Jeffrey to pick up some Legos they saw while we were out.
Jeffrey knows how much I love brunch and offered to take me to one of our favorite restaurants for Mother's Day brunch, but instead I requested a lunch at home. We made pizza which is one of my all-time favorites. This particular variety was a new for us to make. We eat white pizza quite often at our favorite pizza place though I normally don't make it at home so it was quite a treat. The kids also enjoyed the pizza even though it had red onion on it. I think they liked the change of pace as well. (On a side note, we use Udi's frozen pizza crust for Tyler.)
I hope your Mother's day was as fun as relaxing as mine was. I still have a surprise to share with how my day finished and it is a delicious treat. So stay tuned…
Roasted Garlic, Chicken & Herb White Pizza
ingredients:
1 pound pizza dough
1 tablespoon butter
8 cloves roasted garlic*, minced
1 tablespoon cornstarch
1/2 teaspoon black pepper
1/2 cup milk
1/4 cup half and half
1/4 cup Parmesan cheese
1 1/2 cups boneless skinless chicken breast, cooked and shredded
1/4 cup red onion, diced
Mozzarella cheese
1 teaspoon fresh thyme, chopped
1/2 teaspoon dried oregano
1 tablespoon fresh parsley, chopped
directions:
Preheat oven to 450 degrees. Sprinkle a pizza stone with cornmeal.
Melt butter in a small sauce pan. Saute the roasted garlic for 1 minute. Add the cornstarch and whisk together cooking it for about 1 minute. Slowly whisk in the milk and half and half. Whisk until smooth. Add the pepper. Cook for about 3 minutes, or until it starts to thicken. Remove from heat and stir in the Parmesan cheese. Set aside.
Shape the pizza dough into a 12-inch circle and place on prepared stone. Spread the white sauce over the dough. Top with chicken, red onions, and a generous amount of mozzarella cheese. Bake for 17-20 minutes, or until the crust is golden, and the cheese is melted.
Remove from the oven, sprinkle with herb and serve immediately.
*To roast garlic: Take a full head of garlic and cut off the top of the garlic so that the cloves are exposed. Place on a piece of aluminum foil. Drizzle generously with olive oil. Wrap loosely in the aluminum foil and bake in 400 degree oven for about 30 minutes or until the garlic is soft. This can be done ahead of time and stored in an airtight container in the refrigerator.