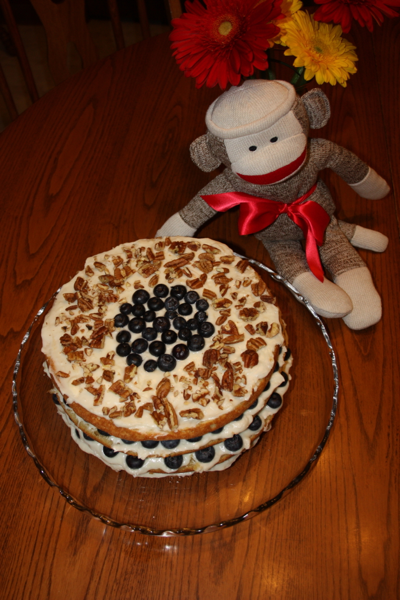 Generally Dinah has selected her Birthday cake many weeks in advance.  I'm not sure if this year was different because she didn't know what she wanted or because our schedules have been hectic over the past few weeks. At any rate, she picked this cake after seeing it featured on the Pioneer Woman's television show. The cake itself looked good and I wasn't sad that it looked a bit easier than some of the cakes I had made in the past for Dinah.  Honestly, she said I could just buy four cupcakes or I could make this cake in a 9″ x 13″ pan.  Neither of those options appealed to me.  So, I made this cake for Dinah.
The cake itself has a few modifications in order to make it gluten free so that all of our family members could eat it. The original called for flour and I substituted gluten free flour (six parts rice flour, two parts potato starch, one part tapioca flour).  That meant that I needed a bit of xanthan gum to get the consistency correct.  If you use regular flour, omit the xanthan gum.  Even though this cake was fairly easy, it was still fun to make.
I also want to say publicly how much I appreciate my wife and all she does.  She is an amazing lady and I (and my sons) are blessed to be able to have her in our lives. Recent days have again brought home that lesson as I've seen her fight for the kids in our schools. I admire her courage and determination. Dinah, I hope you have a good day and I hope my cake isn't awful.  I love you!
Gluten Free Italian Cream Cake with Blueberries
Ingredients:
Cake:
five eggs, separated
1 stick of butter, room temperature
1 cup vegetable oil
1 cup granulate sugar
1 Tbsp. gluten free vanilla extract
1 cup sweetened flaked coconut
2 cups gluten free flour (you can use regular flour)
1 tsp xanthan gum (omit if using regular flour)
1 tsp baking soda
1 tsp baking powder
1 cup buttermilk
Icing:
two 8 oz packages of cream cheese, room temperature
1 stick butter
2 tsp vanilla extract
2 pounds of powdered sugar
1/2 cup chopped pecans
1 cup sweetened flaked coconut
1 1/2 pints of blueberries
Directions:
For the cake:
Preheat oven to 350 degrees.  Grease two 9″ round cake pans.
Beat the egg whites until you have stiff peaks.  Set aside.
In a stand mixer, cream together sugar, oil, and butter.  The mixture should be light in color and fluffy.  Add egg yolks, vanilla and coconut and mix until combined.
In a different bowl, mix flour, baking soda, baking powder, xanthan gum.  Alternating between the flour mixture and the buttermilk, add to mixture in stand mixer in four stages.  Mix until combined.  Fold in egg whites.
Pour into cake pans and bake until done (a toothpick comes out clean) for 22 – 27 minutes.  Cool in pan for fifteen minutes then turn out onto cooling rack to cool completely.
For the icing: Mix butter, cream cheese, and vanilla. Gradually mix in the powdered sugar until your icing has a consistent texture.  Add the coconut and stir until combined (you could add pecans to your icing, but I chose not to do so).
Assembly: Cut each cake in half so that you have four even layers.  Put the first layer on your cake plate and then add a quarter of the icing and evenly spread it over the layer.  Put an even layer of blueberries on the cake.  Repeat for the other four layers until you have completed the cake.  Garnish with pecans.