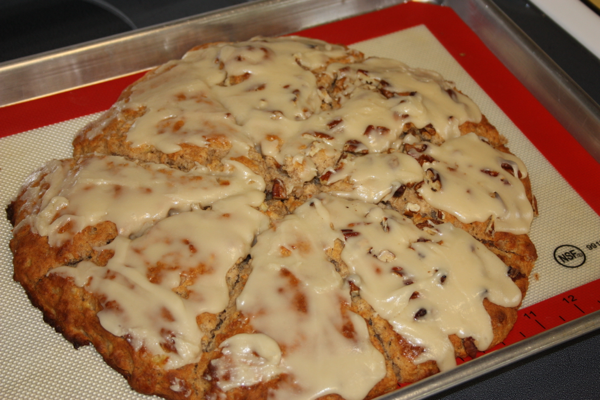 Yesterday was not our typical spring morning. Instead of waking and heading to church for Palm Sunday we woke to 9 inches of snow. Can you say crazy spring weather? It was beautiful and we took advantage of a lazy Sunday.
Jeffrey brewed a pot of coffee and I started baking some scones. Tyler even helped out in the kitchen by smashing the bananas for the scones. (William was still disgruntled that the snow had ruined his afternoon soccer game.) It was a fabulous morning. After filling our bellies with scrumptious goodies, we headed out for some fun in the snow.
We built a snow bunny instead of a snowman. What else would you build in the Spring? Then we headed to clear our driveway. Let me just tell you 9 inches of snow is quite heavy. I'm not sure how much of a help I really was to Jeffrey, but I at least tried. 🙂
Overall, it was a great day and although not our typical Palm Sunday, it was a memorable one spent with family. As a definite bonus, we added a yummy new scone recipe added to our favorites as well.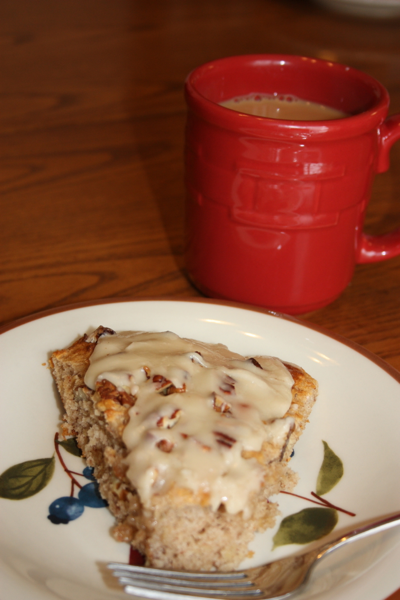 Banana Bread Scones
ingredients:
2 ripe bananas (about 1 cup mashed)
milk (if needed to bring the bananas to 1 cup) *I didn't need any.
1/2 cup plain greek yogurt (I used Chobani)
1 teaspoon vanilla
2 1/2 cups Pamela's Baking Mix (or use flour)
4 tablespoons sugar
2 teaspoons baking powder
1/2 teaspoon salt
1 teaspoon cinnamon
4 tablespoons unsalted butter, cubed into small pieces
chopped pecans, if desired
for the glaze:
4 tablespoons unsalted butter
1 cup powdered sugar
1 teaspoon vanilla
1-2 tablespoons milk
directions:
Preheat oven to 400 degrees.
Mash the bananas and if needed add enough milk to make 1 cup total. (I didn't need to add any milk.) Stir in the yogurt and vanilla and set aside.
Whisk together the baking mix, sugar, baking powder, salt, and cinnamon in a large bowl. Cut in the butter working it into the dry mixture using a pastry cutter until the mix looks like coarse corn meal. (This could probably be done in the food processor.)
Pour the banana mixture into the bowl with the flour mixture and stir to incorporate all the dry mixture into the wet mixture. This will be a very wet dough once you get it all mixed together.
Pour the mixture out into a sheet pan lined with either a silicone liner or piece of parchment. Wet your hands and press the mixture into a large circle that is about one inch thick. Using a knife cut the dough into wedges. If desired, sprinkle with chopped pecans.
Bake for 20-25 minutes until golden brown.
While the scones are baking, make your frosting. Melt the butter in a small saucepan over medium heat. Let the butter melt and then continue cooking it, stirring it occasionally until the butter begins to brown. It will be a golden brown color. Remove from heat and add the powdered sugar, vanilla and 1 tablespoon of milk. Whisk to combine. If needed add an additional tablespoon of milk. You want the mixture to be spreadable but not too thin.
Recut your scones. (They will bake back together but you should be able to see your initial cuts.) Spoon the frosting on the warm scones, spreading it to cover most of the surface of the scones. Enjoy immediately!