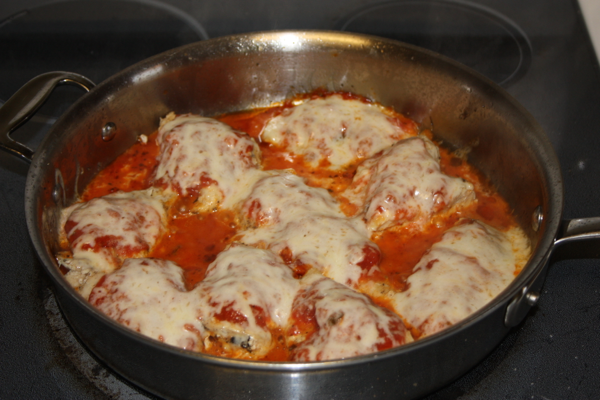 The Kansas City weather is completely wacky. One day you could wear shorts and then today it is cold and there is snow on the ground.  During the warm up I fired up the grill a couple of times.  Today I made chili. I don't know about you, but I am ready for Spring. Perhaps it will just be one more weekend of cold…a gal can wish.
Last week when we had nice weather, I decided to pull out the grill. Once the grill was hot, I started some chicken then came inside to get some pasta going. When I went back out to check on the chicken, I saw that the grill was out of gas and cooling off instead of cooking my supper. I didn't have time to get a new tank of gas so I quickly grabbed my chicken and headed inside.
On that particular night, I had visions of a grilled chicken Parmesan for supper; however, the problem with the grill meant I had to improvise. I added some olive oil in a skillet and then added the chicken. I browned the chicken on both sides and then topped it with some marinara sauce and shredded mozzarella to make a quick and easy chicken Parmesan.
We love chicken Parmesan at our house though we haven't had it in several months because my usual recipe calls for a bread crumb coating. Since I have been cooking gluten free for my son, I had not even thought about trying chicken Parmesan. As we were eating, I was so glad that I tried making it without the breading because it was quite delicious and the kids loved it. I guess running out of gas and the subsequent change in my dinner plans wasn't so bad after all.
Skillet Chicken Parmesan
ingredients:
boneless skinless chicken breasts (I cut mine in half to fit into my skillet better.)
olive oil for sautéing
marinara sauce
shredded mozzarella cheese
directions:
Saute chicken in a large skillet until browned on both sides. When the chicken is cooked through top with some marinara sauce and mozzarella cheese. Put a lid on the skillet and continue cooking for an additional 5 minutes or until the sauce heats and the cheese is melted. Serve on top of cooked pasta of your choice.