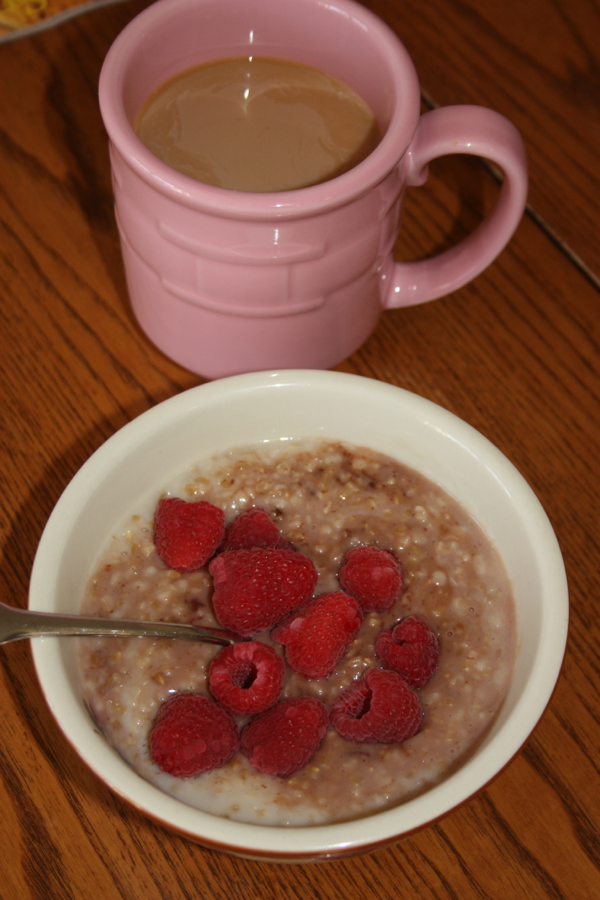 This past weekend Jeffrey and I went out for our Valentine celebration. We had a wonderful evening out with incredible food and a Jazz/Symphony concert. Our meal was four courses of deliciousness. We were both stuffed, but didn't regret one bite. On Sunday morning we treated to a lazy morning of sleeping in followed by a jog with our dogs. I resisted the temptation to go to my favorite creperie and decided to make steel cut oats instead.
I love steel cut oats and had seen a recipe for them that had Nutella and strawberries as a topping. I thought it sounded heavenly. So instead of heading out the door for crepes, I stood at the stove and stirred my oatmeal. (I will confess that I do not enjoy the time it takes to cook steel cut oats though I always feel it is totally worth the effort once I take the first bite.) These steel cut oats were totally worth the wait. I loved the Nutella stirred in and because our family loves raspberries, raspberries were the fruit of choice. I can't wait to have this again and Jeffrey even really enjoyed it stating "this is not really breakfast."
I'm even thinking that I might try adding a spoonful of Nutella to regular oatmeal. What's your favorite thing to add to oatmeal?
Steel Cut Oatmeal with Nutella
Makes 4-6 servings
Ingredients:
For the oats:
3 cups water
1 cup low-fat milk
1 tablespoon unsalted butter
1 cup steel-cut oats (We make sure ours are certified Gluten Free)
¼ teaspoon salt
2 heaping tablespoons brown sugar
For serving:
4-6 tablespoons chocolate hazelnut spread
Fresh raspberries, sliced strawberries, or banana slices
Directions:
Combine the water and milk in a medium saucepan and bring to a simmer. Meanwhile, melt the butter in a large skillet set over medium heat. Add the oats and toast, stirring occasionally, for about 2 minutes or until golden and fragrant.
Stir the oats into the simmering liquid and reduce heat to medium-low. Simmer gently until the oat mixture has thickened significantly, about 20-25 minutes. Stir in the salt and brown sugar and continue cooking for an additional 10 minutes, until most of the liquid has been absorbed and the oatmeal is creamy. (At this point you can refrigerate the cooked oats to be reheated into individual servings in the microwave, adding milk as needed to achieve the creamy texture.)
Portion the oatmeal into serving bowls and top with about 1 tablespoon of chocolate hazelnut spread and stir to combine into the oats. Top with a handful of fresh fruit our favorite is raspberries but strawberries or bananas would be an excellent choice as well.