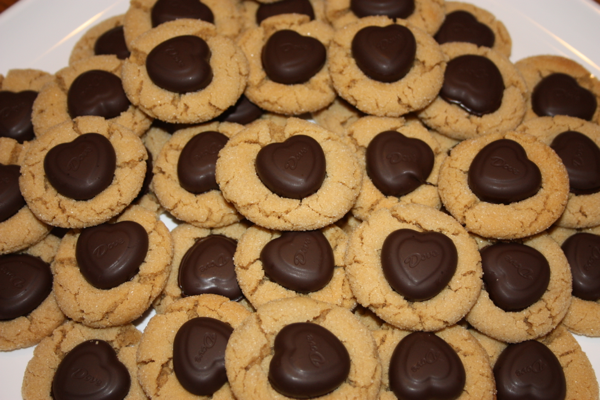 Valentine's Day is tomorrow and I have been quite busy the last couple of days with Valentine inspired goodies.
I am catering a lunch today and the client requested a Valentine inspired cookie so I made a batch of my favorite peanut butter cookies and upon removing them from the oven I topped them with Dove dark chocolate hearts. I had a few extra that I shared with Jeffrey when he got home from work and he insisted I was trying to butter him up. (I think he liked them.)
So if you are looking for an easy last minute treat to make for someone special here is one that won't disappoint. (As long as they like peanut butter and chocolate.) 🙂
Valentine Peanut Butter Crackles
Ingredients:
3/4 cup butter, softened
3/4 cup packed brown sugar
3/4 cup granulated sugar
3/4 cup creamy peanut butter
1 egg
1 teaspoon vanilla
1 3/4 cups flour
pinch of salt
1/2 teaspoon baking soda
about 1/3 cup granulated sugar for rolling the cookies in before baking
2 bags of Dove dark chocolate hearts
Directions:
Preheat oven to 350 degrees.
In a large bowl, beat together butter, brown sugar, and sugar until creamy. Add peanut butter, egg, and vanilla, beating until well blended. Beat in the flour, salt and baking soda. Shape rounded teaspoonfuls of dough into balls; then roll them in sugar making sure they are covered completely in the sugar.
Place 2 inches apart on un-greased baking sheets. Bake for 8-10 minutes or until golden and cracked on top. Immediately after removing from the oven press a chocolate heart in the center of each cookie. Let cool for 8 minutes on the sheet before removing to cool on racks. After removing from the sheets, continue to let cool on cooling racks until the chocolate set. Once the chocolate has had time to set back up they are fine to stack.
The recipe yields approximately 4 dozen cookies.