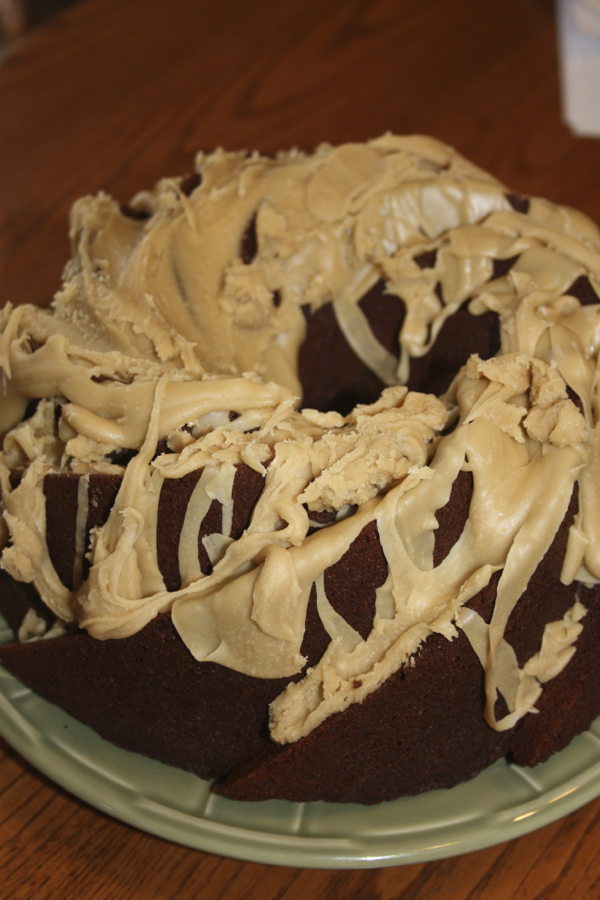 I hope you will excuse my absence on Monday. I had a post to share with you, but it didn't seem like it was the day. Like you, the events in Sandy Hook have left me heartbroken. Instead of sharing with you I chose to spend more time with family. My thoughts and prayers go out to the families in Newtown.
The cake I am sharing with you was made in honor of my father. My dad has always loved spice cakes. I honestly can't remember a Christmas growing up where we were without either a jam cake or an applesauce stack cake. When I saw this recipe, I knew I had to give it a try.
While it is not a traditional jam cake, it does have the flavor of one and honestly baking it in a bundt pan makes it so much easier. I even shipped my dad part of the cake and he seemed to enjoy it as well. I thought it was kind of nice to have a treat that was a taste from my past, but with a new spin on it for the future.
Tennessee Jam Bundt Cake
Ingredients:
1 1/2 cups chopped pecans
1 1/2 cups granulated sugar
1 cup butter, softened
4 large eggs
3 cups all-purpose flour
2 tablespoons unsweetened cocoa
1 teaspoon ground cinnamon
1/2 teaspoon salt
1/2 teaspoon ground allspice
1/4 teaspoon ground nutmeg
1 cup buttermilk
1 teaspoon baking soda
1 1/2 cups seedless blackberry jam
2 teaspoons vanilla extract
CARAMEL FROSTING
1/2 cup firmly packed dark brown sugar
1/4 cup whipping cream
1/4 cup butter
1 teaspoon vanilla extract
1 1/4 cups powdered sugar
Directions:
Preheat oven to 350°. Bake pecans in a single layer in a shallow pan 8 to 10 minutes or until toasted and fragrant, stirring halfway through. Cool completely in pan on a wire rack (about 30 minutes). Reduce oven temperature to 325°. Grease (with shortening) and flour a 12-cup Bundt pan or alternatively spray pan with a nonstick cooking spray that has flour in it such as Bakers Joy. Once the pan has been prepared set it aside.
Beat granulated sugar and 1 cup butter at medium speed with a stand mixer until light and fluffy. Add eggs, 1 at a time, beating just until blended after each addition.
Stir together flour and next 5 ingredients. Stir together buttermilk and baking soda. Add flour mixture to butter mixture alternately with buttermilk mixture, beginning and ending with flour mixture. Beat at low speed just until blended after each addition. Add jam and vanilla, and beat just until blended. Stir in toasted pecans. Pour batter into prepared pan.
Bake at 325° for 1 hour to 1 hour and 15 minutes or until a long wooden pick inserted in center comes out clean. Cool cake in pan on a wire rack 20 minutes; remove from pan to wire rack, and cool completely (about 2 hours).
Prepare Frosting: Bring brown sugar and next 2 ingredients to a boil in a 2-qt. saucepan over medium heat, whisking constantly; boil, whisking constantly, 1 minute. Remove from heat; stir in vanilla. Gradually whisk in powdered sugar until smooth. Gently stir 3 to 5 minutes or until mixture begins to cool and thicken. Immediately pour frosting over cooled cake. (The frosting is very hard to pour once it begins to cool so work quickly!)
Adapted from the November issue of Southern Living