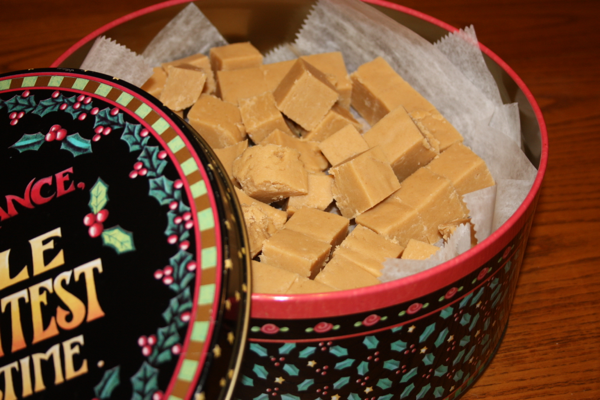 I don't know about you, but I love getting holiday goodie trays from friends. It is nice to have an assortment of goodies without having to make all of them on your own. Recently at our PTA meeting we decided to have a cookie swap. It is a great way to get a variety of treats and try new flavors. You also have the advantage of picking the treats you love the most. 🙂
This year I decided I would give making fudge a try. I really enjoy fudge and it scored high on the list of Christmas goodies this year because it doesn't contain gluten. YEAH!!!! After reading several recipes, I finally decided to give it a try. I actually made two different varieties and will be sharing the other recipe in the next couple of days. This peanut butter fudge though couldn't be simpler and it was delicious. The boys really enjoyed both varieties that I made and wanted to make sure I could make more in case I didn't come back with any from our cookie swap.
So if you haven't tried making your own fudge here is a great recipe to start with. It is easy doesn't take very long to put together and the outcome is fabulous.
Peanut Butter Fudge
Ingredients:
2 sticks unsalted butter (8 ounces)
1 cup creamy peanut butter (I used JIF in my recipe)
1 teaspoon vanilla extract
16 oz. confectioners' sugar
Directions:
Line an 8 x 8-inch baking dish with parchment paper. (I used two pieces one going each direction.) Combine the butter and peanut butter in a microwave safe bowl and cover with plastic wrap. Microwave on full power for 2 minutes. Remove from the microwave, stir, and microwave on full power for 2 minutes more. (Stir and make sure all of your butter is melted and the mixture comes together smoothly.)
Carefully remove the bowl from the microwave. Add the vanilla and confectioners' sugar to the bowl. Stir with a wooden spoon or spatula until evenly combined. The mixture will become difficult to stir and lose its sheen.
Transfer the mixture to the prepared pan and spread into an even layer. Place an additional piece of parchment or waxed paper directly on the surface of the fudge. Press down to smooth out the top. Refrigerate until cool, at least 2 hours. Use a large knife to cut into 1-inch pieces. Store in an airtight container.