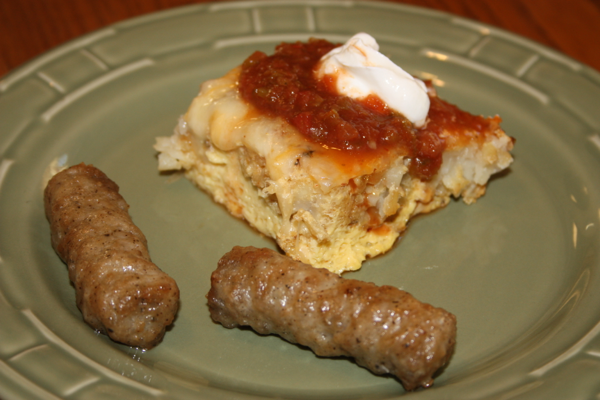 I always like to look back at past blog posts and then see which ones are the most popular or most viewed. It is somewhat funny to me that my egg casserole has always been in the top 5 if not the number 1 viewed recipe. I will admit that it is a great casserole and one that is loved at our house. It is super easy to put together, smells wonderful as it is cooking and is always a crowd pleaser. I will be honest and say that I haven't tried to make it gluten free because I am almost scared to see what happens if I use gluten free bread. I am sure I will put on my big girl pants soon and embrace the change, but for now I just haven't messed with something that seems to work so well.
Even though I am afraid to try and change that recipe, it doesn't mean that I am not looking for a gluten free alternative that Tyler as well as the rest of us can enjoy. My fritattas are also gluten free, but neither of my children is a big fan (I do think Jeffrey and I could eat them on a regular basis assuming I use egg substitute). When I saw this recipe that utilized tater tots (which both kids like), I thought it would be a hit. It was very good but according to Tyler it needs some adjustments. (He thinks it needed sausage in the casserole instead of serving sausage on the side.)
This was a great casserole and I cut down the original recipe so it would cook in a 9X9 dish instead of a 9X13 which was perfect for our family. We ate most of the casserole and just a few pieces were saved for the next day. I will be tinkering with it because I think Tyler might be right that some sausage would be good inside the casserole.  That being said (or written), this casserole was already good enough to make it onto the blog.  Who knows, perhaps it will be a future hit in terms of page views.
Huevos Rancheros Egg Casserole
Ingredients:
Nonstick cooking spray
16 ounces frozen fried potato nuggets (about 1/2 package)
6 eggs or the equivalent in egg beaters
1/2 cup milk
3/4 teaspoon dried oregano
3/4 teaspoon ground cumin
1/4 teaspoon chili powder
1/8 teaspoon garlic powder
1 cup shredded Mexican cheese blend
salsa
sour cream
fresh cilantro
Directions:
Preheat oven to 375 degrees F. Lightly coat a 9X9 baking dish with nonstick cooking spray. Arrange potato nuggets in dish.
In a large mixing bowl combine eggs(egg beaters), milk, oregano, cumin, chili powder, and garlic powder. Whisk until combined. Pour egg mixture over potato nuggets.
Bake for 35 to 40 minutes or until a knife inserted near center comes out clean. Sprinkle cheese evenly over egg mixture. Bake about 3 minutes more or until cheese melts. Let stand for 10 minutes before serving. Top with salsa, sour cream, and cilantro.
Adapted from Better Homes and Gardens