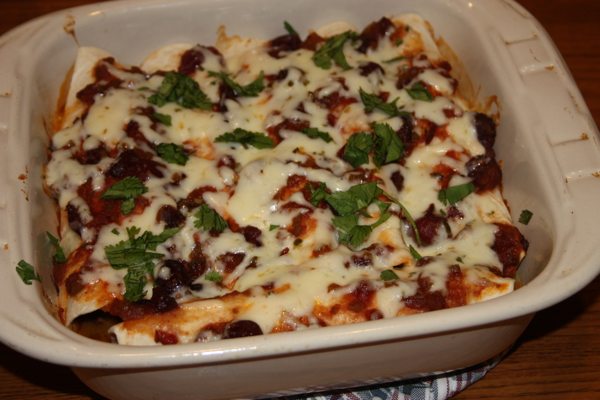 I hope you and you family had a wonderful Thanksgiving. We had a wonderful time with friends and family. The food was scrumptious and the down time was much needed. I have also enjoyed the leftovers!
I first saw this recipe for turkey enchiladas last year, but was unable to try it since we didn't have Thanksgiving at our house. I can honestly say I am kicking myself now for not finding a way to try it earlier because it is superb!
We really enjoy Mexican food at our house so this fits well with that but it takes on the Thanksgiving flavors in a new light. It is just the right amount of sweet and spicy. Jeffrey and I both enjoyed it and I am looking forward to eating it again soon. (I will be substituting rotisserie chicken when leftover turkey isn't an option.)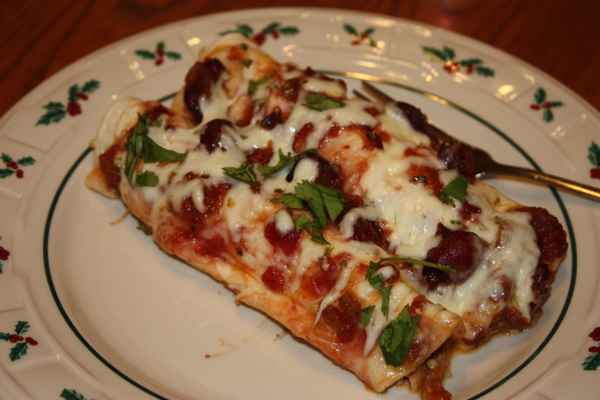 Turkey Cranchiladas
Ingredients:
nonstick cooking spray
1 1/4 cups shredded turkey or chicken
1 cups whole-berry cranberry sauce (or 1/2 16-oz can)
1/2 (15-ounce) can kidney or black beans, drained and rinsed
1 cup salsa
1 cups shredded Pepperjack cheese
1/4 cup sour cream
3-4 scallions, chopped
1/8 cup lightly-packed chopped cilantro
1/2 teaspoon ground cumin
1/4 teaspoon kosher salt
1/4 teaspoon freshly cracked black pepper
6 (6-inch) flour or corn tortillas
1 tsp bottled hot sauce
Directions:
Preheat the oven to 350 degrees and lightly spray a 9×9 inch baking dish with cooking spray.
In a large bowl, combine the turkey, 1/2 cup of the cranberry sauce, the beans, sour cream, 1/3 cup cheese, 1/2 cup of the salsa, green onions, cilantro, cumin, salt, and pepper.
Spoon about 1/3 cup filling into each tortilla, and roll tightly. Place seam-side down in the baking dish.
In a medium bowl, combine the remaining cranberry sauce, 1/2 cup of salsa, and the hot sauce. Stir to combine and pour over the enchiladas. Cover the dish with foil, and bake 30-45 minutes. Remove foil, and sprinkle with remaining cheese. Continue to bake, uncovered, an additional 5-10 minutes, or until cheese is melted and bubbly. Sprinkle with additional cilantro and scallions, and serve.
(This can easily be doubled to fill a 9X13 inch baking dish, but this was perfect for Jeffrey and myself.)