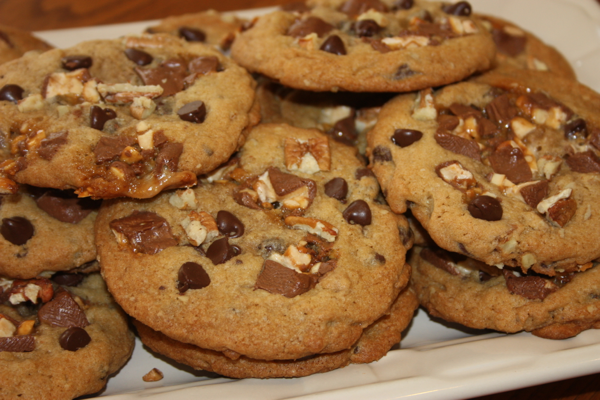 I love chocolate chip cookies. There is almost nothing better than a warm chocolate chip cookie and a glass of milk or cup of coffee. It just doesn't get any better.
I will say that our cookie consumption has declined since Tyler has gone gluten free, but I do still get my fair share of cookies. (On a side note…Trader Joe's Crispy Chocolate Chip cookies are fabulous and gluten free.) Usually when I cater, I would always make extra so the family could enjoy the goodies. This is not the case anymore because I feel bad if Tyler is left out. That was when I thought of this recipe. It makes a small amount of cookies so I didn't have to feel bad about extras for the family. It also utilizes Halloween candy in the topping of the cookies so it helped reduce our candy stash which is a good thing. (It is so hard to resist a bite size candy bar when you walk by the overflowing basket of candy.)
Overall, I think this is a great cookie recipe. It makes 12 so it is nice to have in your recipe box for when you are looking for a yummy cookie but now wanting to make tons of cookies. Try it with a variety of candy bars. (My favorite is Snickers, but Midnight Milky Ways are also quite delicious.)
Coffee House Cookies
Ingredients:
1 1/2 cups all purpose flour
1/2 teaspoon baking soda
1/4 teaspoon salt
1/2 cup butter, softened
3/4 cup packed brown sugar
1 egg
1 teaspoon vanilla
1 cup coarsely chopped walnuts or pecans, divided
1 cup semi-sweet chocolate chunks or chips, divided
2 bars (1.5.-2 oz. each) favorite chocolate candy bar
Directions:
Preheat oven to 350 degrees. Combine flour, baking soda, and salt in a small bowl; mix well. In a large bowl beat butter and brown sugar together until creamy. Add egg and vanilla; beat well. Gradually beat in flour mixture.
Stir in 2/3 cup of the nuts and 2/3 cup of the chocolate chips into the dough. Cut candy bars into small pieces, and set aside.
Using a large scoop, drop 6 scoops of dough, 3 inches apart onto a large sheet pan lined with parchment or silicone baking mat. (Cookies will spread while baking.) Flatten scoops of dough slightly with the palm of your hand. Lightly press half of the remaining nuts, chocolate and candy into the tops of cookies.
Bake for 14-16 minutes or until cookies are almost set. (Centers will be soft. Do not over-bake.) Cool 5-7 minutes on sheet pan. Remove to cooling rack and cool completely. Repeat with remaining dough.
*You can cook 2 pans at one time just make sure to rotate and switch racks in the oven half-way through baking.