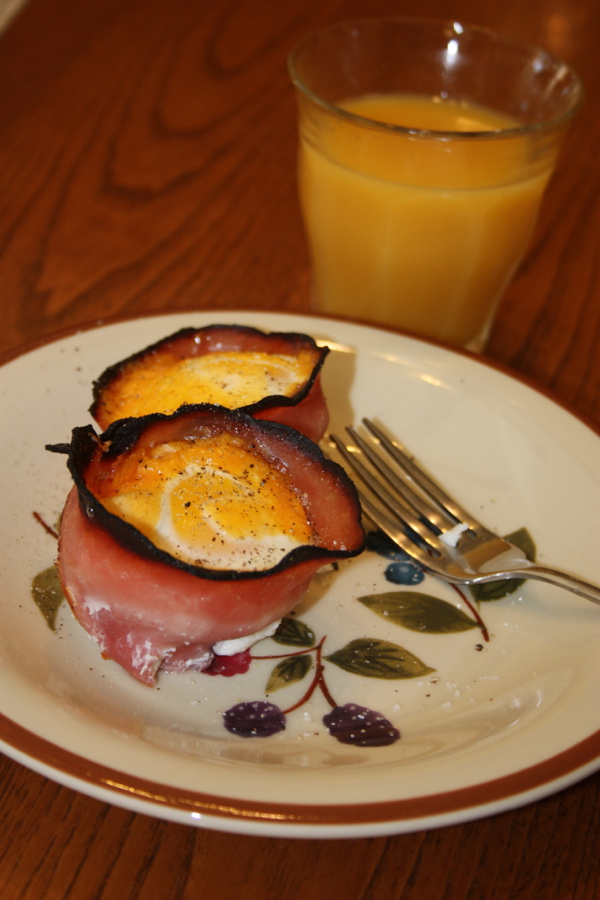 Perhaps the worst thing a foodie could admit that they love is something from McDonald's. Knowing that confession is good for you though, I will confess that one of my favorite breakfasts when traveling is an Egg McMuffin. When pictures started popping up on Pinterest for eggs baked in a muffin pan in a ham cup, I knew I had to give them a try.
Last weekend, still a bit tired form all the excitement at the house, I finally tried them and loved them! I was feeling pretty rotten that day so the fact that I liked them in spite of that really impressed me. I will note that I left them in the oven a little longer than I meant since I forgot to set a timer, but they still came out quite delicious. I felt like I got the flavor of an egg McMuffin without the guilt. The boys also enjoyed them very much though Jeffrey had to pass due to his egg intolerance.
This is a super easy breakfast to make and doesn't take very much time in the oven at all. If you trust your kids to crack eggs, they could probably do most of the work themselves. My friends and family can count on this fun addition to brunches, family breakfasts, or other gatherings. And on days when I need a little pick me up, this might be what I turn to when I want a quiet breakfast for just me.
Ham and Egg Cups
Ingredients:
Sliced ham
eggs
shredded cheese
Directions:
Spray a muffin pan with nonstick cooking spray. Place a piece of ham in the desired number of muffin holes to create a cup. Break an egg into each ham cup. Sprinkle with shredded cheese and salt and pepper. Bake in preheated 400 degree oven for approximately 12 minutes or until the egg is the desired degree of doneness.