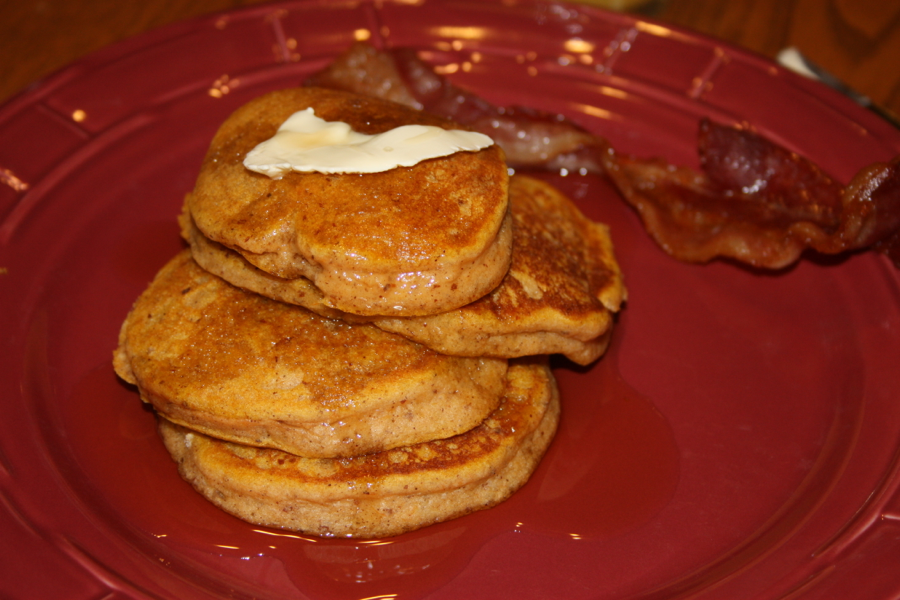 Last week was a crazy week for me. I catered nine meals in four days. Needless to say by the time Saturday rolled around I was quite tired. Tyler's birthday was on Friday and so I thought Saturday it would be nice to go out to our favorite restaurant serving crepes for a belated breakfast celebration. Tyler and William had other plans. When pumpkin pancakes became an option, there was no going out.
Although a little disappointed at first, I quickly changed my mind when I took the first bite. I love pumpkin and I love pancakes so it was the perfect breakfast on a brisk fall morning. If you are looking for a fall inspired breakfast, this will not disappoint. We even adapted the recipe to make them gluten free and even William didn't notice or complain.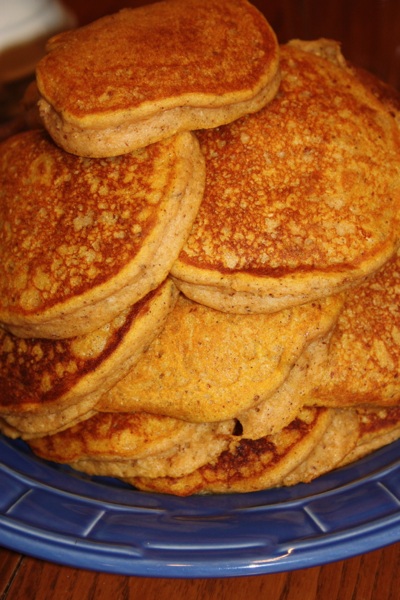 Gluten Free Pumpkin Spice Pancakes
Printer Friendly Recipe
Ingredients:
2 1/2 cups Pamela's Baking Mix (or all-purpose flour)
1/4 cup brown sugar
4 teaspoons baking powder
1/2 teaspoon salt
1 1/2 teaspoons cinnamon
1/2 teaspoon nutmeg
1/8 teaspoon ginger
2 cups milk
1 cup pumpkin puree
2 eggs
1/4 cup canola oil or 4 tablespoons melted butter
Directions:
In a medium mixing bowl, combine the flour, brown sugar, baking powder, salt, and spices. Whisk together to combine. Mix together the milk, pumpkin puree, egg and oil in a large batter bowl. Add the wet ingredients to the dry ingredients and whisk together just until combined.
Heat a greased skillet or griddle over medium heat. Once the griddle is hot, ladle out approximately 1/3 cup of batter onto the pan. Cook until bubbles begin to form on top. Carefully flip with a spatula and cook the second side until golden brown. (A couple minutes more.) transfer to plate. Repeat until all the batter has been used. Serve with butter and warm syrup.
*To keep the pancakes warm as you cook them preheat the oven to 200 degrees and place an oven safe plate in to put the cooked pancakes on after they come off the griddle.