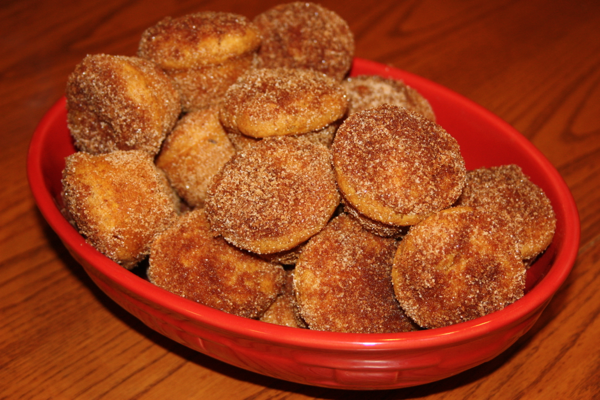 Fall is finally here so I felt it was fitting to break out the pumpkin recipes. I'm not sure if this goody should be considered a muffin or a baked donut.  Instead of calling them muffins or donuts, I am just going to go with calling them pumpkin poppers.
Life has been quite hectic at our house and I have not had very much time in the kitchen to relive my stress and relax. I decided early Tuesday morning that I would just get up earlier than normal and start baking. I would help me relive some stress and everyone would have a yummy treat before heading out for the day.
The other day I shared the cinnamon toast muffins and this recipe is very similar to that one, but the addition of pumpkin puts them in a league of their own. William and Tyler both loved them! William's only complaint was that it was a little too big for him to eat with a single bite. A new family favorite for sure. I am already looking forward to the next time I bake this yummy treat.
Baked Pumpkin Poppers
Printer Friendly Recipe
Ingredients:
1 3/4 cups Pamela's Pancake and Baking mix or all-purpose flour
2 teaspoons baking powder
1/2 teaspoon salt
1/2 teaspoons cinnamon
1/2 teaspoons nutmeg
1/2 teaspoon allspice
1/8 teaspoons ground cloves
1/3 cup canola oil
1/2 cup light brown sugar
1 large egg
1 teaspoon vanilla extract
3/4 cup canned pumpkin puree
1/2 cup milk
For the Topping:
4 tablespoons unsalted butter, melted
2/3 cup granulated sugar
1 1/2 tablespoons cinnamon
Directions:
Preheat oven 350° F. Spray one 24-cup mini muffin tin with baking spray and set aside.
In a medium bowl, whisk together flour, baking powder, salt, cinnamon, nutmeg, allspice and cloves. In a separate large bowl whisk together oil, brown sugar, egg, vanilla, pumpkin and milk until smooth. Add dry ingredients to wet ingredients and mix until just combined.
Divide batter evenly among muffin cups. Bake for 10-15 minutes. While the muffins bake, melt butter in one bowl and combine granulated sugar and cinnamon in another bowl. Remove muffins from oven and cool until able to handle (about 5 minutes). Dip each muffin top in melted butter, then roll the whole muffin in cinnamon sugar to coat. Serve warm or at room temperature.