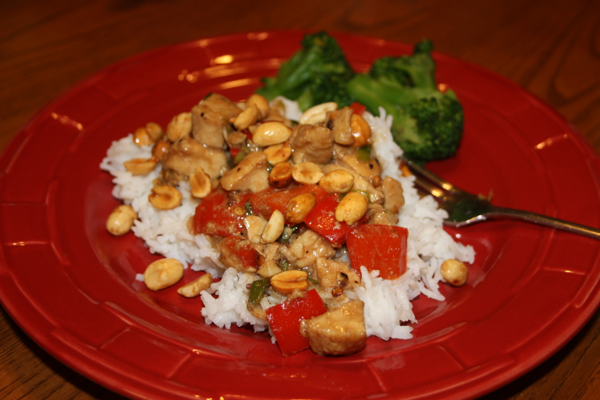 A few weeks ago, a friend of mine indicated on facebook that they would be eating kung pao chicken for supper that night. Being a fan of spicy food in general and Kung Pao in particular I asked if she would share the recipe that she was going to be making. She shared this recipe and I sent it on to Dinah as something we should add to our list of "to try."
On Wednesday, Dinah did all the prep work and then went to pick up William from practice. She thought I would have fun with this recipe and I certainly did. I like to cook when we are making spicy food because I always put as much spicy stuff as I can in the recipe. On a side note, it really is important to do all the prep work and line everything up in bowls or other containers as you don't have time to do much while everything is cooking because you are using such high heat. If you forget to chop you peppers, and then have to try to do that while it is cooking, you will have problems.
This recipe was easy to adapt to being gluten free. Key things to watch would be the peanuts and soy sauce. Most soy sauce contains gluten, but there are gluten free alternatives.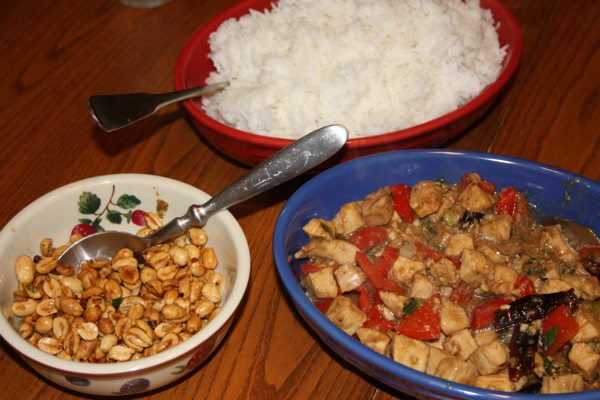 Kung Pao Chicken
Printer Friendly Recipe
1 pound boneless, skinless chicken thigh or breast, cut into 3/4-inch cubes
1 tablespoon minced garlic
2 tablespoons minced ginger
2 1/2 teaspoons cornstarch
1 teaspoon soy sauce
1 teaspoon plus 1 tablespoon Shao Hsing rice wine or dry sherry
2 teaspoons sugar
1/2 teaspoon salt
2 tablespoons chicken broth
1 tablespoon Chinkiang or balsamic vinegar
1 teaspoon dark soy sauce
1 teaspoon sesame oil
2 tablespoons peanut or vegetable oil
4 to 8 dried red chili peppers, snipped on one end
1/2 teaspoon roasted and ground Sichuan peppercorns
1 large red bell pepper, cut into 1-inch squares
3/4 cup unsalted roasted peanuts
1/2 cup minced scallions
In a medium sized bowl combine the garlic, ginger, cornstarch, soy sauce, 1 teaspoon of the rice wine, 1 teaspoon of the sugar, 1/2 teaspoon of the salt, and 1 teaspoon cold water; add the chicken and toss to coat. In a seperate bowl combine the broth, vinegar, dark soy sauce, sesame oil, and the remaining 1 tablespoon rice wine. Chop red bell pepper and put in a bowl. Also chop your scallions and set aside (I even went as far as to measure my peanuts before I started so I could just throw them into the pan.)
Heat a wok or large skillet over high heat until a bead of water evaporates in less than 2 seconds after being added to the pan or wok. Add 1 tablespoon of peanut oil and then add your Sichuan Peppercorns and your chilies (I dumped the seeds out before adding the chilies into the skillet). Stir-fry for 15 to 30 seconds until the chilies begin to change color. Move the chilies to the side of the skillet and add your chicken aranging it in one even layer. Do not stir the chicken for a 1 to 2 minutes to let the chicken sear. Then stir fry the chicken until it is lightly brown.
Move the chicken to the sides of the pan and add 1 tablespoon of peanut oil to the wok or pan. Add the chopped bell pepers and stir-fry for 1 or 2 minutes when the peppers begin to soften. Add the broth and soy sauce mixture and stir-fry for 1 or 2 minutes more. Sprinkle with 1 tablespoon of sugar. Add the scallions and cook for another 30 seconds to 1 minute. (You could add the peanuts at this point or alternatively remove everything from your pan and then add the peanuts and cook for a minute until they start to toast up nicely.)
Swirl the remaining 1 tablespoon peanut oil into the wok. Add the bell peppers and stir-fry 1 minute or until the peppers begin to soften. Swirl the broth mixture into the wok and stir-fry 1 minute or until the chicken is just cooked through. Add the peanuts and scallions, sprinkle on the remaining 1 teaspoon sugar and 1/4 teaspoon salt, and stir-fry 30 seconds or until the scallions are bright green. Serve over rice.