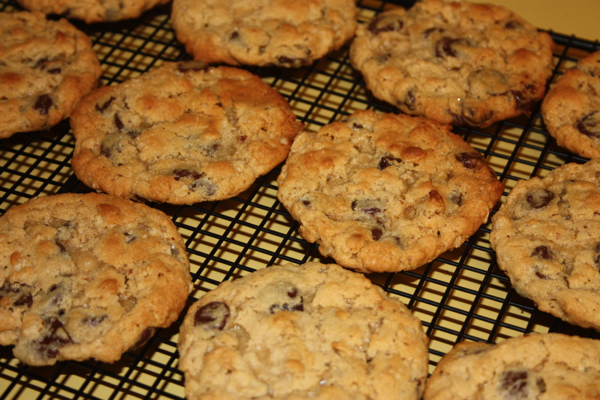 Since trying to eat a mainly gluten free diet at our house for the past several months, I have been going back through some of our favorite recipes and adapting them to make them gluten free. Some recipes have been easier than others. I decided to try one of our favorite cookies the other day and was so happy. The cookies turned out fabulous. The only problem I had was that I halved the recipe just in case they didn't turn out and everyone complained that there were not enough cookies. I decided to make the recipe again. (Actually, Jeffrey put the cookie dough together and I baked the cookies while he read to the boys.) There was no halving of the recipe this time. Cookies all around!
I used Pamela's baking and pancake mix again in this recipe and they turned out beautifully. I have been so happy with how I can substitute this for flour in almost any recipe so far. You will need to make sure the oats you use are gluten free, but everything else on the list is gluten free (or at least the brands that I use are.)
Gluten Free Peanut Butter Oatmeal Chocolate Chip Cookies
Printer Friendly Recipe
Ingredients:
¾ cup butter, softened
½ cup peanut butter
1 cup granulated sugar
½ cup brown sugar, packed
1 teaspoon baking powder
½ teaspoon baking soda
2 eggs
1 teaspoon vanilla
1 ¼ cups Pamela's Baking and Pancake Mix
2 cups rolled oats, gluten free
1 cup semi-sweet chocolate chips
Directions:
Preheat oven to 375 degrees.
In a large mixing bowl beat butter and peanut butter with an electric mixer on medium-high speed about 30 seconds or until combined. Add granulated sugar, brown sugar, baking powder, and baking soda. Beat until combined, scraping the sides of the bowl occasionally. Beat in eggs and vanilla until combined. Beat in as much of the baking mix as you can with the mixer. Stir any remaining baking mix in by hand. Stir in rolled oats and chocolate chips by hand.
Drop dough by rounded teaspoons (use a small scoop if you have one) 2 inches apart on an ungreased cookie sheet. Bake for 8-10 minutes or until lightly golden brown. Let cool on pan for a few minutes before removing to a wired cooling rack.