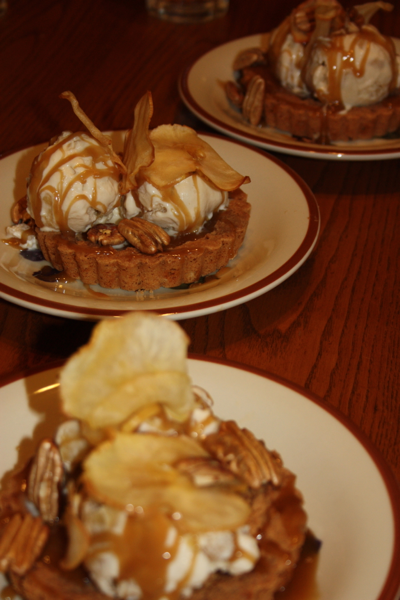 Sometimes you are ready for a taste of fall even before the temperature outside drops to normal fall temperatures. This dessert was the perfect treat to have a taste of fall even when the temperature outside is still hot. I loved it! The shortbread crust filled with tipsy apple ice cream, topped with buttery caramel and sweetened apple chips is almost a sugar overload so you should have a hot espresso or cup of coffee close by. Don't say I didn't warn you…
I loved all of the components of this dessert. While they worked very well together, I think each part would also be great on its own. I have bought apple chips numerous times before, but didn't realize how easy they were to make on my own. Next time I want my harvest apple salad, I will remember I can make those chips on my own. The caramel sauce I blogged about earlier this week so you know I loved it. The ice cream was also superb, but how could caramelized apples cooked in bourbon not be delicious?
Even if you don't want to take on making this entire dessert (although I really think you should) there is so much you can do with all the components that make this an excellent addition to your fall entertaining.
Caramel Apple Ice Cream Tarts
Printer Friendly Recipe
1 2/3 cups all-purpose flour (I used Pamela's baking mix to make them Gluten Free)
3/4 cup butter, cubed
2/3 cup powdered sugar
1/3 cup cornstarch
2 tablespoons butter
2 cups peeled and diced Gala apples
1/3 cup firmly packed light brown sugar
1 tablespoon bourbon
2 pints vanilla ice cream
Caramel Sauce
1/2 cup toasted pecans, for garnish
Caramelized Apple Chips, for garnish
Directions:
For the ice cream: Melt 2 tablespoons butter in a large skillet over medium-high heat; add apples and brown sugar. Cook, stirring constantly, 8 to 10 minutes or until tender and caramelized. Add bourbon and cook an additional minute. Cool completely (about 30 minutes).
Let vanilla ice cream stand at room temperature 10 minutes or until softened; place ice cream in a large bowl, and stir in apple mixture. Cover and freeze 4 hours or until firm.
For the tart shells: Preheat oven to 350°. Pulse first 4 ingredients in a food processor 10 to 12 times or until mixture resembles coarse meal. Firmly press on bottom and up sides of 8 (3 3/4-inch) round tart pans with removable bottoms (about 7 Tbsp. per pan). Place tart pans on a baking sheet. Bake 25 to 30 minutes or until lightly browned. Cool completely on baking sheet on a wire rack (about 30 minutes).
To assemble: Place two or three scoops of ice cream in tart shells. Top with caramel sauce, toasted pecans, and apple chips.
For the Caramelized Apple Chips:
Ingredients:
1 small apple
1 cup sugar
1 cup water
parchment paper
Directions:
Preheat oven to 350°. Place a lightly greased wire rack in an aluminum foil-lined 15- x 10-inch jelly-roll pan. Cut apple into 1/16-inch-thick slices, cutting through stem and bottom end using a mandoline. Bring sugar and water to a boil in a 3-qt. saucepan over medium-high heat, stirring constantly. Add apple slices, and cook, stirring often, 10 to 12 minutes or until apples are slightly translucent and syrup begins to thicken. Remove from heat. Quickly remove apples from syrup, 1 at a time, using tongs, and place in a single layer on wire rack in pan. Discard remaining syrup. Bake apples at 350° for 10 to 15 minutes or until golden; remove from oven, and transfer apples to lightly greased parchment paper, using tongs. Cool completely (about 10 minutes). Apples will crisp as they cool.
Adapted from Southern Living