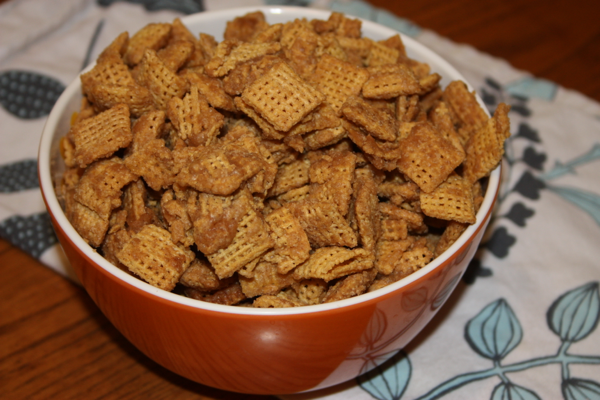 Today will be the day we find out if gluten-free is going to be part of our everyday lives. I have learned quite a bit in the last three weeks and feel more comfortable in my menu planning, but it will continue to be an adjustment if we have to do this longterm. I am sure I will be much more diligent in my menu planning. I have learned that it is a lot harder to stay gluten free and have a well balanced meal without the proper planning.
Regardless of whether or not we adopt a gluten free lifestyle, this treat will be a fun thing to make at our house. We have purchased Churros from the food court at Costco a couple of times as a special treat and this snack duplicates the flavors. It was loved by everyone and it is so simple to make. Jeffrey requested the addition of nuts in the future, but since Tyler is not a fan we will be keeping it simple for now. I am sure you could add quite a few mix-ins to suit your own tastes as well.
Cinnamon Churro Chex Mix
Printer Friendly Recipe
Ingredients:
1 1/4 cups brown sugar
2 tsp cinnamon
1/2 cup butter
1/8 cup corn syrup
1 tsp vanilla
1/2 cup white chocolate chips
1 box Corn Chex
Directions:
Combine brown sugar, cinnamon, butter, and corn syrup in a medium saucepan. Bring to a boil, stirring constantly. Once the mixture has come to a boil add vanilla and white chocolate chips, stirring until all of the chocolate chips have melted and the mixture is smooth.
Pour the cereal in an extra large bowl. (The larger the bowl the easier to combine.) Pour the cinnamon mixture over the cereal and stir until the cereal is well coated. Spread onto a large cookie sheet lined with parchment paper.
Bake at 350° for about 10-15 minutes. Let cool on the pan before placing in a sealed container or individual zip-top bags.