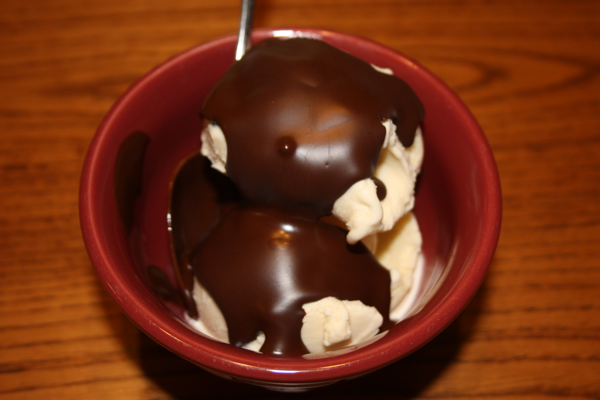 I have always been a fan of magic shell. I think the appeal is that magic shell takes me back to my childhood. As I am getting older though, I am much more careful of the things I put into my body. I prefer a short list of ingredients to a long, and more importantly like to be able to pronounce most of the words.
As we have been working on a gluten-free diet for Tyle,r I am becoming more and more aware of food labels. This job is not something I enjoy, but if eating gluten-free will help Tyler with his skin issues I will continue reading food labels. When it comes to things that we can't find that are gluten-free, we will learn to make our own alternative.
I can honestly say that I did not check the list of magic shell to see if it has gluten in it. I did however see multiple people posting about making a homemade version so I thought I would give it a try. We had some friends over for dinner and I knew it would be a great time to experiment. I actually made two different varieties though this one was 1) easier and 2) the favorite of the children. I really enjoyed this version of magic shell as well and have eaten it as a late night snacking option while watching the Olympics.
If you have fond memories of magic shell from your childhood I think you owe it to yourself to try your hand at making this homemade version. (Jeffrey and I already have ideas on how to make some other varieties by adding vanilla or espresso powder.)  Maybe I should make a batch of Peanut Butter ice cream to go with this treat!
Homemade Magic Shell
Ingredients:
1 cup semi-sweet chocolate chips
2 tablespoons coconut oil
Directions:
Combine chocolate chips and coconut oil together in a microwave safe bowl. Microwave on high in 30 second intervals whisking in between until the chocolate has melted. Once the mixture has come together and all the chocolate is melted pour over ice cream and enjoy. Store any unused magic shell in a covered jar on the counter or pantry. Microwave in 30 second intervals before serving to thin out the sauce.