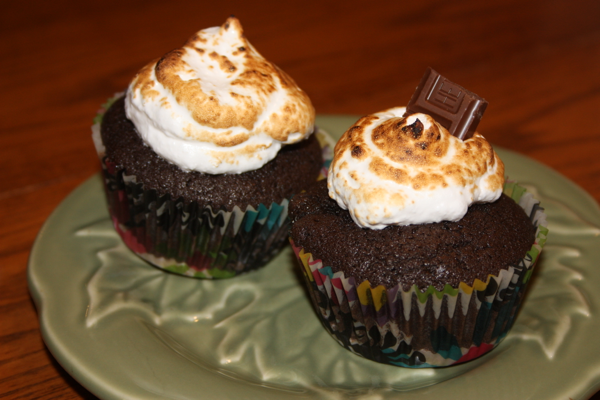 There has been a lot going on at our house lately. So please forgive me for not keeping my normal blogging schedule. Hopefully as things settle and cool down I can get back into the groove of things. We are currently trying a gluten-free diet at our house and it has turned my kitchen as well as my world upside down. While this recipe is not gluten-free, if we have to keep a gluten free diet at our house it will be high on the list of items to try to recreate in a gluten-free manner.
I saw this recipe and knew I had to give them a try. I even went to Home Depot to buy a torch. (I have tried kitchen torches in the past and have not been all that pleased with them so I decided to go for something with a little more power. I will be honest and say that using the torch was not my favorite part and so Jeffrey took care of that part. I am excited to try torching some creme brûlée in the future and may find it more to my liking.)
I made these cupcakes (or Jeffrey and I made these cupcakes) a couple of weeks ago for a family gathering and unfortunately the cupcakes and Tyler made it to the gathering, but Jeffrey, William, and I did not. Let's just say All-City dive meets take awhile. Since I wasn't there I can't say what the first reactions were, though the family members in my house all enjoyed them and I did have several family members mention their approval of the cupcakes after the fact.
My favorite part of the whole cupcake was the graham cracker crust in the bottom. It was superb. I really liked the texture and it was a nice addition in my opinion. The frosting was another item that is a little different from your traditional frosting and it tasted just like a marshmallow. (I used my mom's 7 minute frosting recipe and loved it.) I even thought the frosting tasted more like a marshmallow on the following day. I was a little hesitant about torching them the evening before but they held up well in a container on the counter. (Honestly, they were still quite tasty several days after the initial baking.)
S'mores Cupcakes
Printer Friendly
Ingredients:
For the graham cracker crust:
1½ cups graham cracker crumbs
¼ cup sugar
5 1/3 tablespoons unsalted butter, melted
For the cake:
½ cup plus 1 tablespoon Dutch-process cocoa powder
½ cup plus 1 tablespoon hot water
2¼ cups all-purpose flour
¾ teaspoon baking soda
¾ teaspoon baking powder
½ teaspoon salt
2 sticks plus 1 tablespoon unsalted butter
1 2/3 cups sugar
3 large eggs, at room temperature
1 tablespoon vanilla extract
¾ cup sour cream
For the frosting:
4 large egg whites, at room temperature
1 cup sugar
¼ tsp. cream of tartar
1 tsp. vanilla extract
Directions:
Preheat the oven to 350° F. Line two cupcake pans with paper liners. In a small mixing bowl, combine the graham cracker crumbs, sugar and melted butter; mix well with a fork. Drop about 1 tablespoon of the graham cracker mixture in the bottom of each cupcake liner and press down to line the bottom. (Note: The bottom of a small cup or bottle works well here.) Bake for 5 minutes. Remove from the oven, and maintain the oven temperature.
In a small bowl, combine the cocoa powder and hot water and whisk until smooth. In another medium bowl combine the flour, baking soda, baking powder, and salt, and whisk to blend. Combine the butter and sugar in a medium saucepan set over medium heat. Cook, stirring occasionally, until the mixture is smooth and the butter is completely melted. Transfer the mixture to the bowl of an electric mixer and beat on medium-low speed until the mixture is cool, about 4-5 minutes. Add the eggs one at a time, mixing well after each addition and scraping down the sides of the bowl as needed. Blend in the vanilla and then the cocoa mixture until smooth. With the mixer on low speed, add the flour mixture in three additions alternating with the sour cream, beginning and ending with the dry ingredients and mixing each addition just until incorporated.
Divide the batter evenly between the prepared liners, filling each about ¾-full. Bake until a toothpick inserted in the center comes out clean, about 15-18 minutes. Let cool in the pan about 5-10 minutes, then transfer to a wire rack to cool completely.
To make the frosting, combine the egg whites, sugar and cream of tartar in a double boiler or bowl set over a pan of a few inches of simmering water. Mix with a hand mixer for 7 minutes while over the simmering water. The frosting will become glossy and form stiff peaks. Transfer the frosting to a pastry bag fitted with a decorative tip. Pipe onto cupcakes and then brown with a torch and garnish with chocolate pieces if desired.