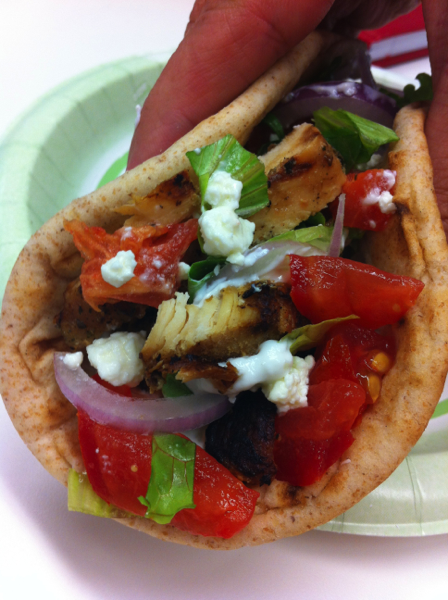 Grilling is definitely one of my favorite methods of preparing meals in the summer. The grill provides wonderful flavor and minimal clean up in the kitchen. The other day we had a dive meet that didn't allow for us to have a family meal around the table so I decided to take the components for these pitas for a dinner poolside.
I prepped all of the toppings earlier in the day and grilled the chicken just in time to stick it in the pita bread and wrap in foil before heading out the door. We rounded out our meal with some pita chips, hummus and fresh peaches. It was the perfect meal enjoyed by all.
Grilled Greek Chicken Pitas
Printer Friendly Recipe
Ingredients:
grilled greek chicken, cut into bite size pieces
lettuce
chopped tomatoes
tzatziki
feta cheese
sliced red onion
pita bread
Marinade for the chicken:
1/4 cup mayonnaise
3/4 cup plain yogurt
1/2 cup chopped parsley
1/2 cup chicken broth
1 lemon, sliced
2 tablespoons dried oregano
1 tablespoon minced garlic
1 tablespoon black pepper
8 chicken breasts
Mix together all the ingredients except for the chicken in a large zip top bag until well combined. Add the chicken and toss to coat. Marinate in the refrigerator at least 30 minutes but no more than overnight. When ready to grill, place on preheated grill for about 10 minutes per side or until the juices run clear.
For the tzatziki:
small container of plain yogurt (I prefer Fage greek yogurt.)
1 cucumber, peeled, seeded and finely chopped
2-3 cloves garlic, minced
Salt and pepper
Combine all ingredients together and refrigerate for several hours for optimal flavor.