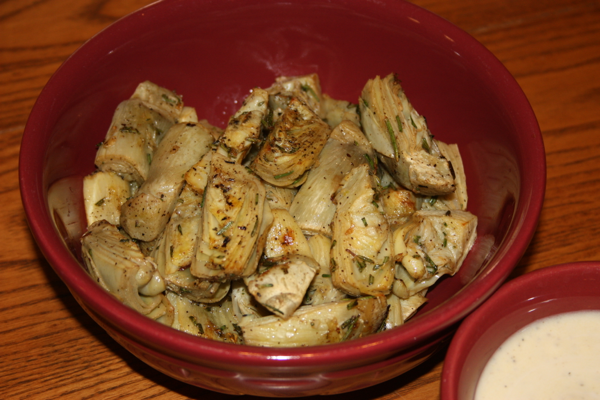 I have been putting off making this side for a couple of months because I wasn't sure if my family would like it or not. The other night while I was grilling some chicken I decided to go ahead and give it a try. I was so glad that I did. The artichokes were delicious and when you dipped them in the dipping sauce the flavors were incredible.
Jeffrey kept going on about how he couldn't figure out what was in the dipping sauce, but that the flavors were intense. I think I was most surprised when Tyler said they weren't his favorite, but if he was still hungry he would eat a couple more. William didn't care for them. Three out of four isn't bad, especially since both of the adults liked them. All in all I think it was a success and it adds one more option when I am needing a quick side.
As I was eating them I was envisioning how these could be added to a pizza or panini so I know they will be making another appearance at our house in the near future. One quick note, frozen artichoke hearts are definitely the way to go for this dish as they are easy and cut preparation time down considerably.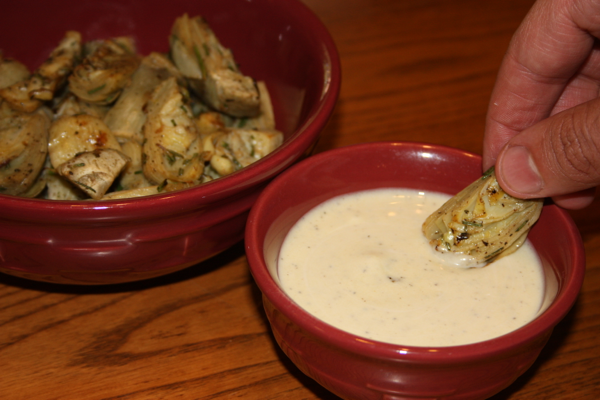 Grilled Artichokes with Creamy Champagne Vinaigrette
Printer Friendly Recipe
Ingredients:
1/3 cup plus 1/4 cup olive oil
1 tablespoon chopped fresh rosemary
2 garlic cloves, minced
1 pound frozen artichoke hearts, thawed
1/2 cup sour cream
2 tablespoons champagne vinegar
2 tablespoons honey
salt and pepper
Directions:
In a medium bowl, whisk together 1/3 cup olive oil, rosemary, garlic, 1 teaspoon salt and 1/4 teaspoon pepper. Add the artichokes and toss until well coated.
Preheat the grill or heat a grill pan over medium-high heat. Grill the artichokes for 1 to 2 minutes on each side, until lightly charred. Transfer to a serving bowl and set aside to cool slightly.
To make the dipping sauce combine sour cream, remaining 1/4 cup olive oil, vinegar, honey 1/2 teaspoon salt, and 1/4 teaspoon pepper in a small 2-cup measuring cup. Whisk until smooth. Serve alongside grilled artichokes.
Adapted from Weeknights with Giada