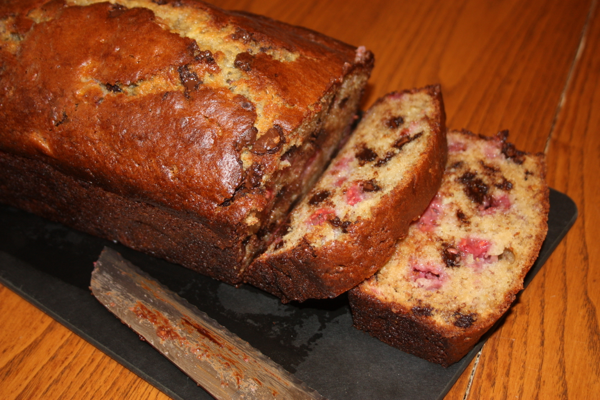 The other day I was looking on Pinterest and saw a picture of banana bread with chocolate chips and raspberries in it. I often add chocolate chips to my banana bread but had never thought of adding raspberries. (You would think I would have thought of this since most of my family goes bonkers for raspberries, but the thought never crossed my mind.)
I mentioned the idea to Jeffrey and he thought it was a must try. He then mentioned the idea to Tyler who thought the idea of banana bread with raspberries in it was a stroke of genius. Unfortunately for him, I didn't make it early enough. When he heard about the idea Sunday morning, he expected the bread for breakfast. There wasn't time to make it this morning and I hate to say it but he was quite disappointed. He was sulking around and claiming that nothing sounded good and that he wasn't hungry.
In an attempt to help Jeffrey recover face with our disenchanted son, I decided to make the bread while Tyler was attending a birthday party at the pool. He had to wait until the afternoon to enjoy the yummy bread though I imagine this morning's disappointment is long gone. I think it is a new favorite. Tyler even passed up s'mores to have this as his desert after supper.
Raspberry Dark Chocolate Banana Bread
Printer Friendly Recipe
Ingredients:
2 cups all-purpose flour
3/4 teaspoon baking soda
1/2 teaspoon salt
1 cup granulated white sugar
4 tablespoons unsalted butter, at room temperature
2 large eggs
1 1/2 cups mashed ripe banana (2-3 bananas)
1/3 cup plain greek yogurt
1 teaspoon vanilla extract
1 cup dark chocolate chips
1 cup halved raspberries, tossed in 1 tablespoon all-purpose flour
Directions:
Preheat oven to 350°F. Spray a 9×5-inch loaf pan with cooking spray.
In a medium bowl, whisk together the flour, baking soda and salt.
In a separate large bowl, beat the sugar and butter with an electric mixer at medium speed until well blended (about 1 minute). Add the eggs one at a time, beating well after each addition. Add the banana, yogurt, and vanilla; beat until blended. Stir in the flour mixture; just until moistened. Don't over-mix. Stir in the chocolate chunks and then gently stir in the raspberries.
Pour the batter into the prepared pan. Bake for 50 to 60 minutes or until a wooden toothpick inserted in center comes out clean. Cool 15 minutes in the pan on a wire rack. Remove from pan and cool completely on the wire rack.