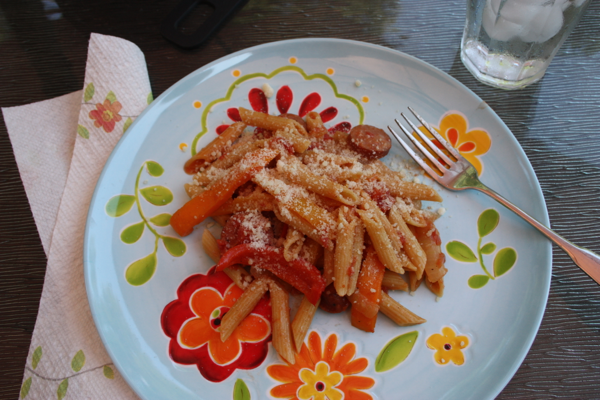 I am blessed to have a large freezer in our garage that allows me to buy things in bulk and also to allows me to be the recipient of half a cow from my father. I love that I can go to my freezer, but I sometimes forget what is in there. The freezer has been bursting at the seams lately so I have been trying to clean out our freezer by going to it first when I am meal planning. I always know I can count on finding frozen fruit, chicken and ground beef though the other choices is the freezer don't always pop into my brain.
In my attempt to get things under control again, I have been searching to find some items that don't usually make it to our table so that I can clean out the freezer. At the same time, I want to add some variety to our meals. I decided to give the kielbasa a try in a pasta dish because even if the boys didn't like the sausage I knew they could fill up on the pasta. If you have missed recent posts, we are back in the season of swim team and my kids are bottomless pits. To my surprise William loved the kielbasa and Tyler did eat pasta. I am not the biggest fan of kielbasa. I will be honest and admit that when I walk by street venders that are selling sausages topped with grilled peppers and onions it always smells amazing. It was that combination that inspired this pasta.
Another thing to commend this dish is the way that it came together quickly and was filling after another day spent at the pool.  You may not have kielbasa in your freezer, but if you do, this is a really good way to enjoy it!
Kielbasa and Pepper Pasta
Ingredients:
1 lb. cooked pasta (I used penne but any shape will do.)
1 lb. kielbasa sausage, cut into 1/4 inch slices
2 or 3 bell peppers, sliced (I used a combination of red, orange, and yellow.)
1 large onion, sliced
1 28-ounce can diced tomatoes
2 cloves garlic, minced
1/2 teaspoon salt
1/4 teaspoon black pepper
2 teaspoons corn starch
1 tablespoon water
Directions:
In a large pan, cook the sausage until is is browned on both sides. Remove to a plate once it has browned. Add the peppers and onions to the pan used to cook the sausage and cook until the peppers and onions soften and begin to get some color. Once they have softened add the kielbasa, diced tomatoes, salt, pepper, and garlic to the pan. Stir to combine. Combine the corn starch and water together in a small bowl and then add to the pan. Let the mixture come to a boil and thicken slightly, stirring constantly. Pour over cooked pasta. Add 1 cup shredded parmesan cheese and toss to combine. Serve with additional grated parmesan, if desired.