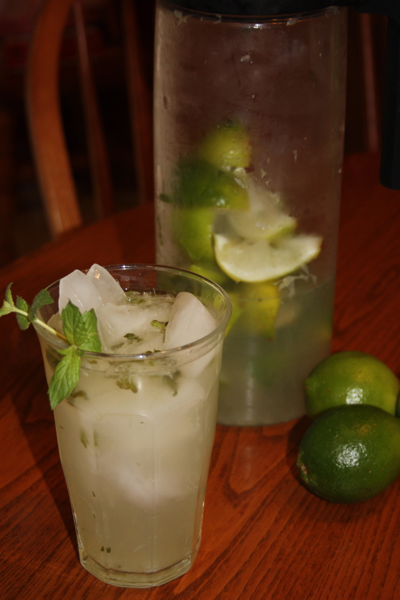 I keep waiting for things to slow down. The weekend was fairly busy as Jeff had a game on Friday then I catered my first wedding ever on Saturday. The reception was outdoors and the weather was perfect. The food was a hit and I had a great time and it was such an honor to be involved in some great people's special day.
With the busy weekend, I was looking for a way to relax and had seen this recipe and thought it would be a nice treat. I love limeades and other such refreshing drinks in the summer and thought it would be fun to make a family friendly version of mojitos. I had a surplus of limes after making ceviche so I thought it was a perfect time to make the refreshing drink. Everyone in the family loved it and it was quite refreshing. I know it will be a frequent visitor at our house this summer.
Family Friendly Mojitos
Ingredients:
6 limes
12 mint leaves
1/2 cup sugar
ice
seltzer water
Directions:
Quarter the limes and squeeze them into a 2-quart pitcher. One you have squeezed the limes through the lime into the pitcher. Add the mint and sugar and crush together with a wooden spoon. Continue crushing the mixture until most of the sugar has dissolved. Add some ice to the pitcher and then the seltzer water. Stir until combined. Garnish with additional lime slices and mint, if desired.